Back in January, Sgt. Joseph Chavalia, a member of the Lima, Ohio, SWAT team shot and killed Tarika Wilson, 26, and shot and maimed her infant son, Sincere Wilson, as she held him in her arms as he and other SWAT team members executed a drug search warrant at the home Wilson shared with her boyfriend. The boyfriend was the object of the raid.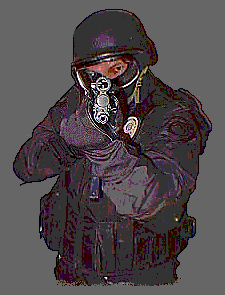 Police have presented no evidence that Wilson acted in a threatening manner as the SWAT team burst into her home.
On Monday, prosecutors charged Chavalia with two misdemeanors -- negligent homicide in the death of Wilson and negligent assault in the wounding of her child -- that could see him spend a maximum of eight months in prison if convicted on both counts. Wilson's relatives and activists, many of whom allege a pattern of discriminatory policing by the Lima police, were outraged.
The shooting itself touched off heated city council meetings and protest marches. Many citizens and civil rights leaders, including national figures like the Rev. Jesse Jackson, had called for police and local elected officials to be held accountable. Those calls grew louder after Chavalia's charges were announced.
"Any time a man shoots through a baby and kills an unarmed woman, and is charged with two misdemeanors, I think it would be an understatement to say that that's unacceptable," said Jason Upthegrove, Lima NAACP president, in an interview with the Associated Press.
Upthegrove said the charges should have been more serious. He added that the Lima NAACP will ask the FBI and the Justice Department to investigate whether the case has been handled fairly.
"No one's above the law, even if he serves it," said Ivory Austin II, brother of Tarika Wilson. "Don't separate the police from the people. We are all equal in the society. Treat the police like you would treat the common man," he told the AP.
Lima Police Chief Greg Garlock said there was continued sadness over the shooting. "It's a sad day for us that one of our officers was indicted," Garlock said.