Drug War Chronicle Review Essay: "This is for the Mara Salvatrucha: Inside the MS-13, America's Most Violent Gang," by Samuel Logan (2009, Hyperion Press, 245 pp., $24.99 HB) and "Righteous Dopefiend," by Philippe Bourgois and Jeff Schonberg (2009, University of California Press, 392 pp., $24.95 PB)
Phillip S. Smith, Writer/Editor
These two books have little in common except that they focus on two deviant subcultures of interest to people curious about various facets of drug policy: Central American immigrant gang-bangers in the former and, less obviously, middle-aged, homeless San Francisco heroin addicts in the latter. Neither group has much to do with the other, except that perhaps some of the gang members could have peddled some of the heroin that went into those addicts' arms. What makes both groups -- and both books -- of interest to the Chronicle is that neither group would exist as presently constituted absent the regime of drug prohibition.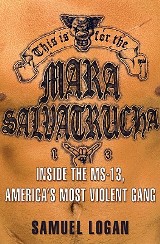 "
This is for the Mara Salvatrucha
" is described as journalist Samuel Logan's effort to peek behind the curtain of one of America's largest street gangs, but with the exception of a few passages scattered through its pages, the book concentrates almost exclusively on the fate of Brenda Paz, a Honduran teenager who got caught up in the gang in Dallas and was quickly brought into local inner circles because she was the girlfriend of a local leader. When Paz's gang-leader boyfriend killed another Dallas area teenager in Paz's presence to steal his car, Paz fled to northern Virginia to avoid prosecution. There, she hooked up with another murderous local Mara leader, got arrested, and turned informant.
Thanks to Paz's extensive interviews with local, state, and federal law enforcement officials, police got their best insights yet into the group's murky inner workings, its origins, and its breadth. Unfortunately, Logan devotes little attention to such things, preferring instead to craft a police procedural, which, while a page-turner in its own right, leaves this reader at least hungry for more solid information.
While Logan asserts that the Mara Salvatrucha is into extortion, dope dealing, and human smuggling, he doesn't really demonstrate it, nor does he demonstrate that the Mara is indeed "America's most violent gang." Logan shows us localized incidents of thuggery, some of them truly mindless and savage, but doesn't describe how the gang actually works, nor compare it in size and scope to other criminal gangs. Nor is there much material about Mara's presence in Central America -- it is particularly strong in El Salvador and Honduras -- a strange omission given Logan's acknowledgement of the gang's origin among Salvadoran immigrants in Los Angeles in the 1980s.
"This is for the Mara Salvatrucha" is an entrancing read in its own right, it does open some windows on the much feared organization -- although not nearly enough -- and it makes the reader develop an interest in Brenda Paz and her trip from innocent if troubled teenager to hardened gang-banger to the federal witness protection program. And that's sort of a shame, given how she ends up. I'll say no more; I don't want to spoil it for you.
Logan left me wishing that anthropologists Philippe Bourgois and Jeff Schonberg had written "This is for the Mara Salvatrucha," but that is a bit unfair. The urban ethnographers were able to spend a decade with the subjects of "Righteous Dopefiend," and those subjects, while constantly engaged in petty criminality, were not hardened, violent tough guys. Instead, they were middle-aged long-term heroin addicts, most definitely nowhere near as scary as a face-tattooed Mara killer. Still, whether it was differences in approach -- journalistic vs. anthropological -- or access to subjects -- limited and fraught with danger vs. long-term and fraught with being asked for spare change -- "Righteous Dopefiend" left me much more fulfilled.
Bourgois and Schonberg came to be on intimate terms with a group of homeless heroin addicts camped in obscure spaces under freeway exchanges in San Francisco. Some were black, some white, a few Hispanic, a few were women. Good anthropologists that they are, there is plenty of theory mainly of interest to grad students, but it is nicely mixed in with real world observation, field notes, striking photographs (and the theory of the photographic gaze), and numerous transcripts of interviews with the aging junkies. (Before some reader jumps up to object to the term, let me just say I prefer the self-selecting "junkie" to the therapeutically-imposed and disempowering "addict.")
The junkie/addict distinction has a parallel in one of the distinctions Bourgois and Schonberg discovered among their homeless chronic heroin users. The white guys were much more likely to be alienated from their families than the black ones. The white guys sometimes didn't even know where their parents lived anymore, but the black guys would go home for birthdays, weddings, funerals, and other important occasions. They were more likely to be accepted as errant but still loved family members, while their white counterparts were more likely to be shunned. The junkies' own self-images reflected these contrasting familial responses, with the white ones adopting a hang-dog "outcast" persona compared to the black guys' graying Superfly "outlaw" persona.
The world of the "Righteous Dopefiend" isn't pretty. There are ugly abcesses and necrotizing fasciitis, there is the violence among the users and directed at them, they live in filth and squalor (although some try harder than others to rise above it), they are constantly driven by the need for the next fix and the fear of getting dopesick if they can't come up with the money to buy it.
But, like any of the rest of us, they are capable of acts of kindness and generosity. In the group Bourgois and Schonberg hung with, there was always at least a heroin-soaked bit of cotton for the person going without. There was romance, too, and a friendship and intimacy among "running partners" probably as genuine as any best friendship among non-homeless non-junkies.
By the way, that kindness and generosity often means sharing needles and cooking equipment. If three of you are going in on a $20 bag of Mexican tar, there is going to be some bodily fluid-swapping going on. Bourgois and Schonberg devote some attention to harm reduction practices, and amid all the talk about knowledge/power relations, one gets the general message that some harm reductionists need to do a better job of listening to their clients. Encouraging them moralistically to not share needles or cooking equipment when their circumstances make it inevitable that they will may not be the best approach, they suggest. Still, despite the critique, it is clear the author and the junkies appreciate the efforts at public health and harm reduction interventions. They are certainly preferable to interventions by police or Caltrans, which result in arrest or the trashing of the homeless camps and the loss of all possessions, and certainly more well-intentioned than the city's public hospitals, which insist that the junkies be literally on death's door before they admit them or the doctors who operate on abscesses without anesthetics and needlessly remove large chunks of flesh, leaving gaping wounds before pushing them back out onto the streets.
"Righteous Dopefiend" is most excellent. Even the theorizing is intelligible to the interested layperson (and will doubtless be grist for many a graduate seminar), and the theorizing is the basis for a well-informed critique of the social forces that create and impact the lives of their subjects. I feel like I got to know these people and gained some insight to how they live and think, and I deepened my understanding of why they live the way they do. What more can you ask of anthropology?