New York decriminalized the possession of small amounts of marijuana in 1977, but New York City police continue to arrest 50,000 people a year for pot possession after stopping-and-frisking them, then tricking them into emptying their pockets and revealing their baggies of weed, triggering the misdemeanor offense of public possession of marijuana.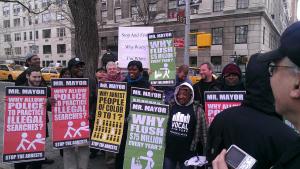 In a bid to end that practice, Gov. Andrew Cuomo (D) and the Democratically-controlled Assembly moved to reform the decriminalization law by removing the public possession provision with
Assembly Bill 10581,
but Monday night, Republicans and their Conservative Party allies in the Senate effectively killed it.
The Senate Republicans caved under pressure from Conservative leader Mike Long, who threatened to not allow any Republicans who supported the bill to appear on the Conservative Party line. The Senate then refused to take up the bill. That means the mass arrests, predominantly of young people of color, for what should, under state law, be only a ticketable offense, will continue, costing the state tens of millions of dollars each year.
The Republican failure to act comes in the face of widespread law enforcement support for the reform, including NYPD Commissioner Raymond Kelly, the district attorneys in all five New York City boroughs and suburban Nassau County, and even the New York City Patrolman's Benevolent Association. Kelly called the reform "a balanced approach," while Manhattan DA Cyrus Vance said it would bring greater "safety and fairness" to the criminal justice system and it was "the right thing to do."
"The Senate Republicans have single-handedly decided to continue ruining tens of thousands of lives -- mostly those of young people of color -- every year. Opposing law enforcement and the clear political consensus in the state is not just heartless -- it's a political miscalculation that will come to haunt them," said Dr. Divine Pryor, executive director of the
Center for NuLeadership on Urban Solutions
.
"Even Mayor Bloomberg and Commissioner Kelly have come out in support of this legislation. So what's holding up the Senate from passing smart reforms that will eliminate the tens of thousands of unlawful arrests taking place in the city every year?" said Alfredo Carrasquillo, community organizer with
VOCAL New York
.
Last week, the New York City Council passed a resolution by an overwhelming margin calling for an end to racially biased, costly, unlawful arrests. The resolution, introduced by Council Members Melissa Mark-Viverito and Oliver Koppell, was cosponsored by a majority of council members. The resolution came a day after hundreds of
community activists went to Albany
to deliver thousands of signatures to demand the New York State Senate pass legislation to decriminalize marijuana possession in public view.
"The New York Senate Republicans are doing what Republicans do best at the federal and local level -- they are obstructing progress and paralyzing government. The Republican Conference in the State Senate is completely out of touch with our communities of color in New York City and because of their inaction, tens of thousands more of our young people of color will be arrested before the end of this year, saddling them with a criminal record," said Mark-Viverito. "The governor, our mayor, the police commissioner, the city council, five district attorneys and criminal justice advocates are all on the same page here. Marijuana was decriminalized in 1977; all we are trying to do is close the 'in public view' loophole that is allowing thousands of unjust arrests of black and Latino youth in our communities."
"It wasn't too long ago that we referred to the 'three men in a room' when discussing the leadership structure in Albany. Now when we talk about leadership in the Senate, we should talk about 'one guy in Brooklyn,' said Gabriel Sayegh, New York state director of the
Drug Policy Alliance
. "While we are disappointed by the lack of action, we're not going anywhere. This campaign for reform has already scored a major victory by bringing this issue to the attention of New Yorkers and the entire country. We cannot and will not accept a situation where the laws are applied differently to different people based on their race or ethnicity or where they live. We'll keep pushing for reform, for fairness, equality, and justice. Given the overwhelming support by law enforcement for this proposal, I think Majority Leader Skelos and even Mr. Long will come to do what's right."