The CDC reports that drug overdose deaths declined for the first time in decades in 2018, Colombia's coca farmers are increasingly unhappy, Bernie Sanders could use an executive order to legalize marijuana at the federal level, and more.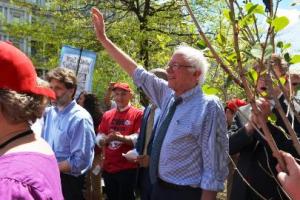 Marijuana Policy
Bernie Sanders Could Use Executive Order to End Federal Marijuana Prohibition. Aides to Vermont senator and Democratic presidential contender Bernie Sanders (I) have presented him with a list of executive orders he could use to unilaterally change federal policies, including one that would direct the Department of Justice to legalize marijuana at the federal level.
Virginia Marijuana Decriminalization Bill Advances. A bill that would decriminalize marijuana and hash oil for adults was approved Wednesday by the Senate Judiciary Committee. The measure, SB 2, now heads to the Finance and Appropriations Committee and, if it passes there, a Senate floor vote.
Cleveland, Ohio, City Council Approves Marijuana Decriminalization. The city council has voted 15-2 to approve a measure that would eliminates fines and jail time for low-level marijuana possession. And it's a pretty high low level: 200 grams. The legislation still needs to be approved by Mayor Frank Jackson (D), who has previously expressed support for it.
Heroin and Prescription Opioids
CDC Reports Drug Overdose Deaths Declined in 2018. For the first time this century, overall drug overdose deaths declined in 2018, according to a new report released by the Centers for Disease Control and Prevention on Thursday. The report put the total number of overdose deaths at 67,000 in 2018, down from over 70,000 in 2017, a decline of 4%. But that still makes 2018 the second-worst year for drug overdose deaths in US history. The majority of overdose deaths involved heroin and fentanyl.
Asset Forfeiture
South Carolina Prosecutor to Appeal Circuit Court Judge's Ruling that Civil Asset Forfeiture Law is Unconstitutional. 15th Circuit Solicitor Jimmy Richardson filed notice this week that he intends to appeal a local judge's 2019 ruling that the state's civil asset forfeiture law is unconstitutional under both state and federal law. The move comes a month after Circuit Court Judge Steven John reaffirmed his August ruling. Johns' decision struck down civil asset forfeiture in his district, but the appeal decision would apply statewide.
International
Colombia Coca Farmers Plan Mass Protests as Counternarcotics Strategy Collapses. Coca farmers are demanding the resignation of crop substitution program director Hernando London after he claimed that "coca substitution leaders have not been assassinated." The coca growers' federation says at least 56 community leaders promoting crop substitution programs have been killed since the program began in March 2017. The coca growers said they were fed up with the "bullshit" of President Ivan Duque's administration and would join national strikes set for next month. Duque's anti-coca policy faces collapse if the crop substitution program is not executed because it then cannot resume aerial spraying of coca crops, according to the Constitutional Court. Without voluntary eradication and aerial spraying, only labor-intensive and easily reversed manual eradication could be used -- and 80% of the destroyed crops are replanted.
(This article was prepared by StoptheDrugWar.org's 501(c)(4) lobbying nonprofit, the Drug Reform Coordination Network, which also pays the cost of maintaining this website. DRCNet Foundation takes no positions on candidates for public office, in compliance with section 501(c)(3) of the Internal Revenue Code and does not pay for reporting that could be interpreted or misinterpreted as doing so.)