US Secretary of State Anthony Blinken is confronting drug policy issues as he visits Latin America this week, New York tells employers it can't test workers for marijuana use, and more.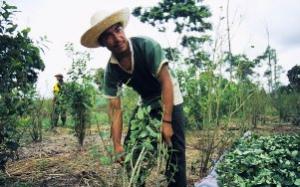 Marijuana Policy
Senate Democrats Move to Let DC Legalize Marijuana Sales. In a package of spending bills unveiled Monday, Senate Democrats have removed a long-standing rider that has blocked the city of Washington, DC, from implemented legal marijuana sales for the past six years. The House took similar action earlier this summer, even though President Biden kept the rider in his budget proposal to Congress. It is not quite a done deal yet, though: Congress must still pass the budget, which is expected to happen in December. The move won plaudits from the marijuana advocacy group NORML, which said: "The omission of the D.C. rider acknowledges the local will of the residents of the District, who overwhelmingly favor retail marijuana sales. The only reason the District is unable to defy the federal government's marijuana prohibition policies in the same way that other states have is that it lacks statehood and is under direct oversight from Congress."
New York Employers Cannot Test Workers for Marijuana, State Says. The state Labor Department issued new guidance for employers Tuesday that bans them from testing workers for marijuana—unless the employee appears visibly impaired on the job. "Observable signs of use that do not indicate impairment on their own cannot be cited as an articulable symptom of impairment," the guidance states. The new guidance does not apply to workers, such as commercial vehicle drivers, who are subject to drug testing under state or federal law.
Foreign Policy
Human Rights Watch Letter Urges State Department to Support Human Rights, Oppose Coca Spraying in Colombia. In a letter to Secretary of State Anthony Blinken ahead of his meeting Wednesday in Bogota with Colombian President Ivan Duque, Human Rights Watch called on the US government to support human rights, noting that "President Duque's administration has pursued several misguided and dysfunctional polices, including on drug policy, and there has been an increase in abuses by armed groups." The group called for "a strong public and private response by the Biden administration" to curb violence by armed groups, police abuses against protestors, and oppose plans to reinstate the fumigation of coca crops with glyphosate. On coca eradication, Human Rights Watch called for the US to "unequivocally oppose plans to reinstate fumigation of coca crops with glyphosate," fully fund crop substitution programs and ensure protection for people involved in them, and "assess US drug and security policies in Colombia to ensure that they help address the root causes of violence by strengthening the presence of civilian state institutions."
International
Ecuador President Declares State of Emergency to Fight Drugs on Eve on US Secretary of State Visit. Ecuadorean President Guillermo Lasso on Monday declared a 60-day state of emergency to confront drug trafficking and a rising number of killings. Under the emergency decree, the military will join drug and arms confiscation operations in nine of the country's 24 provinces, including Guayas, the home of Guayaquil, the country's primary port and largest city. The crackdown will also see increased police patrols and is "oriented towards and focused on guaranteeing citizens... protection from crime and violence." At a Tuesday press conference, visiting US Secretary of State Anthony Blinken said he understood that countries must sometimes take such measures but added that democratic norms must be upheld.
Philippines Says It Will Review Thousands of Drug War Killing. Faced with a looming formal investigation into drug war crimes by the International Criminal Court (ICC), Philippines Justice Minister Menardo Guevarra said his Justice Department will enlarge its review of more than 6,000 drug killings for which Philippines police have taken responsibility (Human rights groups put the actual number of killings at more than 30,000, many of them conducted by shadowy death squads.) "Time and resources permitting, the DOJ will review these thousands of other cases, too," Guevarra said in an apparent shift from the Duterte government's unyielding defense of its policies but also in an apparent effort to blunt the ICC's investigation. The Duterte government argues that it does not need to cooperate with the ICC because its own justice system is capable of dealing with police huma rights abuses. Guevarra's remarks came as the Justice Department released details of 52 drug war killings.