The State Department is looking for drones to spray Colombian coca crops, Thailand begins handing out a million marijuana plants, and more.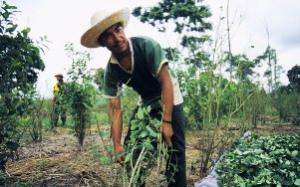 Foreign Policy
US Wants to Use Drones to Kill Coca Plants in Colombia. The State Department is looking for drones to use to spray herbicides on farmers' coca crops, a newly released request on a government website reveals. "The Department of State, INL Bogota, has a requirement to purchase spray UAV systems to support eradication operations throughout Colombia," the request reads. The program would be under the control of the Colombian National Police. The State Department says drones would lessen threats to personnel involved in coca eradication in the country, one of the world's top cocaine producers. "Coca cultivation in Colombia remains at record highs and eradication operations in Colombia remain dangerous. INL Bogota is seeking to bolster the CNP's capability to increase the coca eradication rates and minimize the risk for police personnel in the field."
International
Australian Capital Territory to Decriminalize Drug Possession. The government of the Australian Capital Territory (Canberra) announced Thursday that it will decriminalize the possession of small amounts of illicit drugs, including cocaine, heroin, MDMA, and methamphetamine. It will become the first jurisdiction in the country to do so. Under the new law, people in possession of less than the threshold amounts of the drugs will be fined, but not arrested. Some, though, can have their fines waived if they attend an informative session on harm reduction or enter drug treatment. "We know from research and evidence around the world that criminalizing drug users does not reduce drug use and that treating drug addiction as a health issue improves outcomes for everyone in the community," said ACT Health Minister Rachel Stephen-Smith.
Malaysia to Abolish Mandatory Death Penalty, Including for Drug Offenses. The Malaysian government said Friday it will end the mandatory death penalty for various offenses, including drug offenses, and replace it with "alternative punishments" at the discretion of judges. "This shows the government's emphasis on ensuring that the rights of all parties are protected and guaranteed, reflecting the transparency of the country's leadership in improving the criminal justice system," Law Minister Wan Junaidi Tuanku Jaafar said. The country had declared a moratorium on executions in 2018 but laws imposing the mandatory death sentence remained and courts were required to impose those sentences on convicted drug traffickers. The country currently has more than 1,350 under death sentences, including 925 convicted of drug-related offenses. More than 500 of those under death sentences are foreigners.
Thailand Begins Distributing a Million Marijuana Plants. Health Minister Anutin Charnvirakulkicked off a marijuana plant giveaway in Bangkok Friday, handing out the first hundred seedlings of what is planned to be a million-plant distribution. The giveaway is designed to encourage marijuana production, which government officials say will help low-income farmers, especially in the northeast. Charnvirakul was cheered by a crowd of thousands as he took credit for legalizing marijuana. The government insists that, officially, only medical marijuana has been legalized, but there are no plans to monitor small-scale cultivation.