More than 2,000 federal drug prisoners walk free today under First Step Act reforms, the drug czar touts declining drug overdose numbers and blames Obama, Texas prosecutors balk at low-level pot prosecutions now that hemp is legal, and more.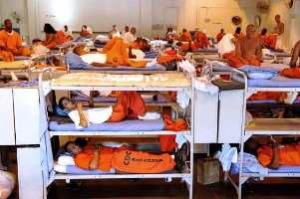 Marijuana Policy
Texas Governor Tells DAs Not to Drop Misdemeanor Marijuana Possession Cases. Gov. Greg Abbott (R) sent a letter Thursday to all county prosecutors urging them to continue to enforce state marijuana laws even though since the state legalized hemp this year prosecutors have no means of testing the amount of THC in a cannabis sample. Their current drug tests only detect the presence of THC, not whether it exceeds the 0.3%, and prosecutors in some of the state's largest counties have announced they will not prosecute small-time pot possession cases. Dallas County District Attorney John Creuzot is one of them, and he said he's not changing his mind: "I have the responsibility to protect the rights of our citizens and ensure that people are not prosecuted for possessing substances that are legal. The concentration of THC is a statutory element of an offense that we must prove to establish a person's guilt. Our office will not charge a person with a marijuana offense without a laboratory report stating that the substance has an illegal concentration of THC."
Heroin and Prescription Opioids
Trump Drug Czar Touts Progress Against Opioid Crisis. Jim Carroll, head of the Office of National Drug Control Policy (ONDCP -- the drug czar's office) gave his boss, the president, credit for an apparent decline in drug overdose deaths reported earlier this week by the Centers for Disease Control and Prevention (CDC). "This president has made this a priority since day one and we're beginning to see results. As you know, the billions of pills that were released, without any control or oversight about what was going on in the last administration has resulted in thousands and thousands of people dying," he said. Still, nearly 70,000 people died of drug overdoses last year on Trump's watch.
Sentencing Policy
More Than 2,000 Federal Drug Prisoners Walk Free Today Under First Step Act. The federal Bureau of Prisons is set to release today 2,200 inmates who had their release dates recalculated following passage of the First Step Act in December. The measure created an easier pathway for inmates to participate in programs designed to prevent recidivism and earn reductions in their sentences. It also reduced mandatory minimum sentencing for nonviolent drug offenders with the goal of accelerating the rehabilitation of criminals and improving their chances for success after release.
International
Colombia Court Upholds Ban on Spraying Coca Fields With Herbicide, but Gives Government an Out. The country's constitutional court on Thursday upheld its restrictions on the aerial spraying of glyphosate to kill coca crops, but also said spraying could be reinstated if the government met certain conditions. The country ended the spraying in 2015 after the World Health Organization linked glyphosate to cancer, and the court ratified that decision. But now, rightist President Ivan Duque wants to overturn that decision. While the court upheld the ban for now, it said it will be up to the national narcotics council to decide whether spraying can resume based on conditions it set in its 2017 ruling.