The chain of events that led to the death of Keith Lamont Scott at the hands of Charlotte Metropolitan Police Department (CMPD) officers and days of civic unrest in North Carolina's largest city began with a joint, Charlotte police said Saturday.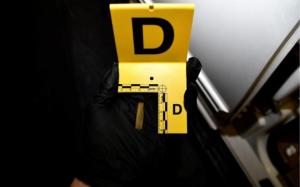 That makes Scott
the 38th person to die in domestic drug law enforcement operations so far this year
.
In an official statement posted on the CMPD's Facebook page and during a press conference last Saturday afternoon announcing that the department was releasing some police body- and dash-cam videos of the fatal encounter, Charlotte police laid out a timeline of what occurred:
Two plain clothes officers were sitting inside of their unmarked police vehicle preparing to serve an arrest warrant in the parking lot of The Village at College Downs, when a white SUV pulled in and parked beside of them.

The officers observed the driver, later identified as Mr. Keith Lamont Scott, rolling what they believed to be a marijuana "blunt." Officers did not consider Mr. Scott's drug activity to be a priority at the time and they resumed the warrant operation. A short time later, Officer Vinson observed Mr. Scott hold a gun up.

Because of that, the officers had probable cause to arrest him for the drug violation and to further investigate Mr. Scott being in possession of the gun.

Due to the combination of illegal drugs and the gun Mr. Scott had in his possession, officers decided to take enforcement action for public safety concerns…
And Keith Scott ended up dead. According to his family, he was in his vehicle waiting for his son to get off the school bus. But because he was rolling a joint while waiting, and because police just happened to be engaged in an operation nearby, he caught the attention of the cops.
Even when police said they saw him hold up a gun, they used the joint-rolling as probable cause to investigate the presence of the gun. If not for marijuana prohibition, the whole unraveling of events, with dire consequences for Keith Scott, and lamentable ones for the city of Charlotte, most likely would never have occurred.