Decrim is moving in New Hampshire, Georgia families rally for medical marijuana, Louisianans will rally for Bernard Noble (13 years for two joints), roommates of a Florida man killed in a SWAT pot raid cry "murder," and more.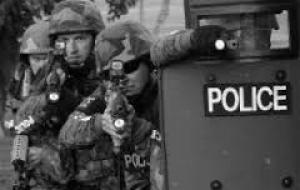 Marijuana Policy
Northern California Counties Seek Unified Position on Pot Policy. As the state legislature again grapples with regulating medical marijuana, and with an almost certain legalization initiative in 2016 looming on the horizon, policymakers from Del Norte, Humboldt, Lake, Marin, Sonoma, and Trinity counties gathered in Santa Rosa (Sonoma County) Thursday to begin trying to reach a unified position on possible reforms. Click on the link for more detail.
New Hampshire Decriminalization Bill Moves. The legislature's Committee on Criminal Justice voted overwhelmingly yesterday to approve a bill that would decriminalize the possession of a half-ounce of pot or less. The measure is House Bill 0618. Although recent polling shows 71% of Granite Staters want either decriminalization or full legalization, the bill still faces opposition as it heads for House and Senate floor votes.
Medical Marijuana
Georgia Families Swarm State Capitol in Support of Strong Medical Marijuana Bill. Dozens of Georgia families streamed into the state capitol in Atlanta yesterday to crank up the pressure on the Senate to pass a medical marijuana bill. House Bill 1has already passed the House, but the Senate is now considering an alternate bill, Senate Bill 185, which would only set up a limited trial program for children with epilepsy. The families want House Bill 1.
Sentencing
Rally Saturday in New Orleans for Bernard Noble, Doing 13 Years for Two Joints. Supporters of Bernard Noble, who is serving 13 years without parole in state prison, are holding a rally in New Orleans Saturday to call for clemency for the non-violent offender and family man. Click on the link for event details and more information.
Law Enforcement
Roommates of Unarmed Florida Man Killed By SWAT Team in Pot Raid Call it Murder. Roommates of Derek Cruice, the 26-year-old Deltona man shot in the face and killed by a Volusia County deputy during a drug raid, described his killing as "murder" and strongly challenged the police version of events. See them describe what happened here. Supporters of Cruice held a rally this morning to decry his killing. A memorial event for Cruice is set for tomorrow morning at a local park. Click the title link for event details.
International
Bolivia's Former Top Narc Arrested for Drug Links. General Oscar Nina, head of the national police in 2010 and 2011, has been arrested by Bolivian authorities on suspicion of illegal enrichment and links to drug trafficking. His wife, daughter, and son were also arrested on similar charges. Another former Bolivian top narc, General Rene Sanabria, is doing a 15-year sentence in the US for drug trafficking. President Evo Morales has vowed to wipe out "the cancer of corruption," but it seems to be a perpetual problem.