This article was produced in collaboration with AlterNet and first appeared here.
The Midwest could soon see its first state end marijuana prohibition. State officials in Michigan announced Tuesday that a marijuana legalization initiative has enough valid voter signatures to appear on the November ballot. Polls in the state suggest it will win.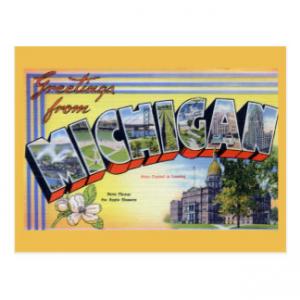 That would be a major breakthrough for legal marijuana. So far, legalization has been limited to West Coast, Rocky Mountain, and New England states, but a victory in Michigan this fall would free the weed in a major Midwest state. Legal marijuana would no longer be limited to the country's fringes, but would have a home in the heartland, and that would lay the groundwork for a more rapid erosion of pot prohibition at the state level.
There's a chance some other state could beat Michigan to the punch -- there are legislative efforts still alive in several states -- but legalizing weed at the statehouse has proven to be a frustrating, years-long task. With a ballot initiative, voters accomplish as much (if not more and better) in one fell swoop.
It's not absolutely official yet -- the state Board of Canvassers is set to formally certify the count on Thursday -- but the Board of Elections announced Monday that it counted 277,370 valid voter signatures, nearly 10% more than the 252,523 required to be approved for the ballot.
The initiative, the Michigan Regulation and Taxation of Marijuana Act, would:
Legalize the possession and sale of up to 2.5 ounces of marijuana for personal, recreational use and up to 10 ounces at home.
Legalize the cultivation of up to 12 plants, as well as the fruits of the harvest.
Tax marijuana sales at a rate of a 10% excise tax at the retail level as well as a 6% sales tax. The estimated revenues from the taxes are at least $100 million.
Split those revenues with 35% going to K-12 education, 35% to roads, 15% to the communities that allow marijuana businesses in their communities and 15% to counties where marijuana business are located.
Allow communities to decide whether they'll permit marijuana businesses.
Restrict purchases of marijuana for recreational purposes to 2.5 ounces, but an individual could keep up to 10 ounces of marijuana in their homes.
Allow the Department of Licensing and Regulatory Affairs (LARA), and not the politically appointed licensing board that will regulate the medical marijuana side of the issue, to regulate and license marijuana businesses, ranging from growers, transporters, testers and dispensaries.
Set up three classes of marijuana growers: up to 100, 500 and 2,000 plants.
The initiative was put together by the Coalition to Regulate Marijuana Like Alcohol, a combined effort of veteran state activists and the ACLU of Michigan and national drug reform groups, including the Marijuana Policy Project and the Drug Policy Alliance. It was built on the back of a 2016 initiative campaign that came up just short on signatures.
The initiative looks well-positioned to win in November, riding as it does pot's ever-increasing wave of popularity. A February poll had support for legalization in Michigan at 57%, while a March poll came in at 61%. Those are the kinds of polling numbers initiative and referendum experts like to see at the beginning of the campaign because they suggest that even with the inevitable erosion of support in the face of opposition attacks, the measure still has a big enough cushion to pull off a victory.
Support for legalization has also seeped into the state Democratic Party, with all four Democratic gubernatorial candidates now behind it. Ditto for the state attorney general race, with both Democrats now embracing legalization.
No mainstream Republicans have embraced the initiative, but there have been reports that state GOP politicians are now considering passing a legalization bill in the legislature in a bid to blunt voter turnout in what they fear could be a Blue Wave election. They worry that the chance to vote for marijuana could produce an electorate more likely to throw them out of office.
They may well be right. The day after election day, Michigan could wake up to both legal marijuana and a Democratic majority in the state house and/or senate. Wouldn't that be something?