BC nurses talk drug decriminalization, a Mexican minister talks drug legalization, House Republicans on a key committee once again block House votes on marijuana amendments, and more.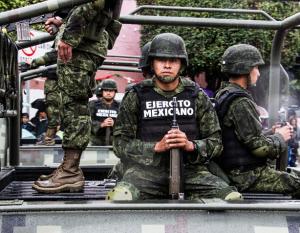 Marijuana Policy
House Rules Committee Once Again Blocks Marijuana Reform Votes. The Rules Committee, chaired by Rep. Pete Sessions (R-TX), has once again blocked marijuana reform amendments from being voted on by the full House. On Monday night, the committee blocked votes on two amendments, bringing the total of amendments it has blocked to 36 in this session.
Arizona Federal Prosecutors Now Charging Marijuana Smugglers With Illegal Entry, Too. Federal prosecutors in Arizona have announced a policy shift in which they will now charge the hundreds of people caught each year smuggling marijuana across the border with immigration violations as well as drug charges. Under the new policy, prosecutors will now seek six-month sentences for misdemeanor illegal entry as well as six-month sentences for marijuana violations. While the sentences would run concurrently, a conviction for crossing the border illegally could be used as a sentencing enhancement in future convictions.
Medical Marijuana
Ohio Medical Marijuana Patient Registry Delayed. The patient registry has been put on hold as regulators try to figure out when medical marijuana when actually be available to patients. The registry was supposed to go online last week. The state Department of Commerce has yet to set a date when it expects medical marijuana to be available.
Oklahoma Attorney General Advises Health Board to Change Restrictive Rules on Medical Marijuana. The office of the state attorney general is advising the Board of Health to revisit its restrictive rules for the state's new voter-approved medical marijuana law. On Monday, Attorney General Mike Hunter said his office would review legal challenges to the rules, and on Wednesday, the office announced it was calling on the board to convene a special meeting to amend the rules it passed last week. "The current rules contain provisions that are inconsistent with the plain language of State Question 788 and the State Board of Health acted outside of its authority when it voted to implement them," Attorney General Hunter said. "Although I didn't support State Question 788, the people of the state have spoken and I have a legal duty to honor the decision made by the electorate. My advice today is made pursuant to that responsibility as attorney general. Moving forward, I encourage all stakeholders to engage with the legislative working group looking at medical marijuana to ensure they have their concerns and recommendations heard and addressed by the legislature."
International
British Columbia Nurses Join Call for Canada Drug Decriminalization. The BC Nurses Union said in a press release Tuesday that the federal government should declare the opioid crisis a national public health emergency and that the possession of personal amounts of opioids should be decriminalized. The move comes just days after the Toronto board of health made a similar call.
Mexico Will Consider Drug Legalization, Interior Minister Says. Interior Minister Olga Sanchez Cordero said Tuesday that that incoming President Andres Manuel Lopez Obrador (AMLO) had given her "carte blanche" to consider legalizing drugs. "On the subject of decriminalizing drugs, Andres Manuel told me, and I quote: 'Carte blanche. Whatever is necessary to restore peace in this country. Let's open up the debate,'" Sanchez Cordero said. She pointed to the bloody violence of the past decade: "What no one can deny with hard data is that, at least in the past ten years, the Mexican government has been incapable of stopping violence and responding to it with institutional mechanisms," she said.