A bill banning minors from buying Delta-8 THC products is signed into law in Kentucky, a bill banning medical marijuana use by pregant or breast-feeding women is signed into law in South Dakota, and more.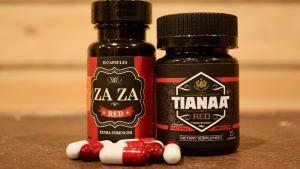 Marijuana Policy
Kentucky Governor Signs Bill Barring Minors from Buying Delta-8 THC Products. Gov. Andy Beshear (D) on Thursday signed into law a bill making it illegal for people under 21 to buy products containing delta-8 THC, a naturally occurring compound typically extracted from hemp-derived CBD that has mild psychoactive effects compared to delta-9 THC and is known colloquially as "marijuana lite." House Bill 544 passed the legislature unanimously directs the Cabinet for Health and Family Services to "immediately begin the process of regulating delta-8 tetrahydrocannabinol and any other hemp-derived substances." It also prohibits "the sale, gift, or sother transfer of possession" of the products to people under 21 years old, and bars anyone under that age from possessing them.
Medical Marijuana
Oklahoma Senate Passes Pack of Medical Marijuana Bills. The Senate on Thursday approved multiple bills aimed at tightening regulations on the state's medical marijuana industry. Senate Bill 264 allows regulators to use 'secret shoppers' to discover businesses not following medical marijuana rules and laws. Senate Bill 437 directs the Oklahoma Health Care Authority (OHCA) to develop a registry of physicians following the agency's original and continuing medical education requirements. All medical marijuana business employees will also need to complete the education requirements. Senate Bill 439 requires regulators to provide a list of qualifying medical conditions to receive a medical marijuana patient license. Physicians will need to hold in-person exams of all license applicants unless the patient is certified as home-bound. It also requires that the two recommending physicians able to prescribe medical marijuana for minors to not be located at the same physical address. Senate Bill 440 limits the THC potency of medical marijuana and related products sold in dispensaries to no more than 1,000 mg of delta-9 THC per package for edible products. Senate Bill 645 requires that any medical marijuana flower, trim, shake, kief, medical marijuana product, or other flower-based product not labeled as a concentrate, sold by licensed processors and commercial growers to licensed dispensaries be pre-packaged and weigh at least half of a gram and no more than three ounces. Flowers are allowed to be packaged in nonopaque materials. Senate Bill 813 allows the state to run a quality assurance lab to direct compliance testing of medical marijuana businesses. The bills now go to the House.
South Dakota Governor Signs Trio of Medical Marijuana Bills. Gov. Kristi Noem (R) on Thursday signed into law three bills dealing with medical marijuana: House Bill 1053 bars pregnant or breast-feeding women from being certified for medical marijuana. House Bill 1132 revises the duties of the Medical Marijuana Oversight Committee (MMOC), adding that the committee shall make recommendations regarding and medical and clinical aspects of the medical cannabis program. House Bill 1150 waives patient fees in some circumstances and requires practitioners to certify whether they have previously certified a patient for medical marijuana.
Drug Policy
Kentucky Governor Signs Emergency Order Making "Gas Station Heroin" a Controlled Substance. Gov. Andy Beshear (D) on Thursday issued an emergency order classifying products containing tianeptine, a previously unregulated drug colloquially known as "gas station heroin," as a Schedule I controlled substance under state law. The drug produces opioid-like effects and is sold in products such as ZaZa, Tianna, TD Red and Pegasus. "Today, Kentucky became a safer place," said Gov. Beshear. "Until now, someone looking for a heroin-like high could walk into certain places or buy this harmful product online. We're committed to protecting Kentuckians from this kind of harm, and if someone is struggling with abuse, we're here to help."