Four more people died in the drug war last month, including two men shot and killed by police, one armed only with a stapler and the other armed only with a finger. A police officer and another man also died in the drug war, not from gunfire, but from misadventure.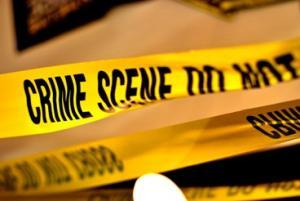 According to
Drug War Chronicle
, which has been tallying narrowly-defined drug war deaths for the past five years,
the September deaths
bring this year's toll to 46. The Chronicle only counts deaths directly linked to drug law enforcement activities -- not, for example, drug gang shootouts or overdose deaths.
Keith Harrison McLeod, a black, 19-year-old Baltimore County resident died September 23 after being shot by a police officer who said he made a "finger gun" gesture at him.
According to Baltimore County Police, the killing happened after a pharmacist in suburban Reistertown called police to report that McLeod had tried to use a fake prescription to purchase an opiated cough syrup (promethazine and codeine), popularly known as "purple drank" among its recreational users.
When the cops showed up, McLeod took off running, but then stopped and got into a "confrontation" with a pursuing officer. Police said, and have video surveillance footage to back them up, that McLeod then moved his hand from behind him and pointed his finger at them like a gun: "[The man reached] around to the small of his back and abruptly whipped his hand around and pointed it toward the officer, as if with a weapon."
The white police officer, identified only as Officer Earomirski, then shoots McLeod, who fell to the ground, but continued "reaching into his waistband as if for a weapon," and Officer Earomirski then shoots him twice more. He was pronounced dead shortly after arriving at Northwest Hospital. No actual weapon was recovered.
Keith McLeod, who was unarmed, is dead, Officer Earomirski is on administrative leave, and "police authorities are investigating."
Dominic Fuller, 34, a Haines City, Florida, man was killed by Polk County Sheriff's Office (PCSO) SWAT officers as he pointed a stapler at them two days earlier. It was the end of a wild manhunt.
According to the PSCO, deputies had been called on a report of drug dealing and a suspicious vehicle in Auburndale and encountered Fuller, who was wanted in a neighborhood shooting a week earlier. Fuller took off on foot, and deputies on the scene discovered his car was stolen and contained a handgun.
As police searched for him, Fuller desperately sought transport away from the area, entering a parked camper with a woman inside and demanding she give him a ride, then entering the house where the camper was parked and demanding a ride or a bicycle from that woman. He left when neither would comply. Numerous witnesses said they saw Fuller running through the area, trying car and residential door handles, with one witness saying they heard him yelling "I have a gun!"
He got into one home, only to be spotted by Deputy Carlos Valle, who saw him standing in the doorway, "showing only his left hand and concealing his right hand behind his back. "Fuller refused commands to surrender, went back into the house, and slammed the door, then tried to escape out a side window, but retreated back into the house when another deputy shined his rifle-mounted flashlight on him.
He then opened the front door, ignoring commands to show his hands and to surrender. When Fuller saw another deputy, Gabriel Reveron, hidden near the doorway, he turned toward the deputy and raised his right hand, displaying a black and chrome object. Reveron, "in fear for his life," fired five shots at Fuller, who staggered back inside slammed the door.
The PCSO SWAT team then spent two hours trying to establish contact with Fuller before entering the residence and finding him dead of gunshot wound to the chest. No gun was recovered, but a black and chrome stapler was found near his body.
Fuller, who was out on bond on meth and paraphernalia charges, had a lengthy criminal record including assault, weapons, and various drug charges.
Deputy Reveron is on administrative leave.
Sgt. Eric Meier of the Crawford Police in upstate New York died September 17, not from a criminal's bullet, but from an apparent heart attack as he traipsed through fields and woods while investigating a report of a marijuana grow. Meier, 51, "suffered a medical emergency" in mid-afternoon and died later that afternoon at the Orange Regional Medical Center.
Zachary McDaniels of Richland County, South Carolina, died on September 6, choking to death on a bag of marijuana during a traffic stop. According to the Richland County Sheriff's Office, McDaniels was one of two men who stole a car at local shopping mall and fled on foot when deputies pulled them over. McDaniels was caught, and police said after he was caught, he started having trouble breathing. EMS workers were called to the scene and found a baggie in his airway, but were unable to remove it. He went into cardiac arrest and suffered brain injury and died after his family took him off life support. The autopsy showed he had swallowed four other baggies of weed before the fifth one got stuck.