Federal officials issue a warning on marijuana for teens and pregnant women, the Philadelphia DA deals with a drug sample testing crisis, Colombian FARC dissidents pick up their guns again, and more.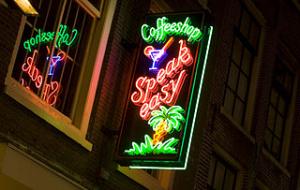 Marijuana Policy
Federal Officials Issue Warning on Marijuana for Teens, Pregnant Women. Health and Human Services Secretary Alex Azar and Surgeon General Jerome Adams warned jointly Thursday against marijuana use by adolescents and pregnant women. Azar, a former pharmaceutical company executive, called marijuana "a dangerous drug," while Adams warned that "this isn't your mother's marijuana" because of higher THC levels.
Oklahoma Poll Shows State Not Ready to Support Legalization. State voters approved medical marijuana last year, but a new poll suggests legalization may be a bridge too far. A new SoonerPoll found that 59% opposed legalization for non-medical use, with 50.5% strongly opposed.
Law Enforcement
Philadelphia Drug Sample Testing Backlog Means DA Will Prosecute Fewer Low-Level Cases. Faced with a backlog of thousands of untested drug samples, District Attorney Larry Krasner's office has announced an "emergency protocol" to suspend the automatic testing of new samples for low-level drug cases. That means the number of low-level drug cases the DA's office prosecutes each year should be reduced because without testing to prove beyond reasonable doubt that a white powder is actually a controlled substance, prosecutors have no case.
International
Colombia FARC Dissidents Take Up Arms Again. Three years after an historic peace agreement between the leftist guerrillas of the FARC and the Colombian state, dissident FARC leaders announced Thursday that they were rejoining the path of armed struggle. Saying the rightist government of President Ivan Duque has betrayed the accord, the dissidents led by Ivan Marquez (Luciano Marin) said they were ready for a "new stage of fighting." They cited the murders of more than a hundred former FARC members and labor activists, as well as the government's failure to provide sustainable development assistance to areas formerly under their control. "The state has not fulfilled its most important obligation, which is to guarantee the life of its citizens and especially avoid assassinations for political reasons," Marquez. Marquez said his group would work with the ELN, another leftist guerrilla army. The number of dissidents affiliated with Marquez is estimated at around 2-3,000. The civil war with the FARC that began in 1964 left more than 220,000 people dead.
Ten Dutch Cities Will Participate in Legal Marijuana Supply Pilot Program. Beginning in 2021, cannabis cafes in 10 Dutch cities will be supplied with legally grown marijuana under a pilot program aimed at solving the country's "back door problem," where marijuana is allowed to be sold but there is no legal source of supply. The ten cities selected for the program are Arnhem, Almere, Breda, Groningen, Heerlen, Hellevoetsluis, Maastricht, Nijmegen, Tilburg and Zaanstad. In those towns, all cannabis cafes must obtain their supply from legally regulated growers. That's why bigger cities such as Amsterdam and Rotterdam opted out: They have large numbers of cannabis cafes and authorities worry problems could arise if they all abandoned their illicit suppliers simultaneously.