California Lieutenant Gov. Gavin Newsom (D) will lead a blue ribbon panel of expert to chart a path toward marijuana legalization, the ACLU of California announced Thursday. At the same time, the group released polling results showing that two-thirds of California voters are ready to support regulated legal marijuana commerce that contributes to state tax coffers.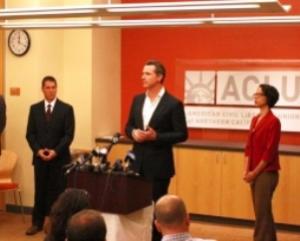 "The prohibition of marijuana has had an enormous human and financial cost in communities across this state," said Newsom, the highest ranking elected official in California to publicly endorse taxing and regulating marijuana for adults. "It is far past time for Californians take a serious look at smarter approaches to marijuana, and it is imperative that happen before any marijuana ballot initiative gets underway."
The panel will consist of academic, legal, and policy experts and "will engage in a two-year research effort," the ACLU said. That is a clear signal that organizers are aiming at 2016 -- not 2014 -- as the time to put the matter before voters, even though at least two separate 2014 marijuana legalization initiative efforts are already underway in the state.
"The panel's work will be designed to help voters and policy makers evaluate proposals for a strict tax and regulation system that will enable California to benefit from billions of dollars of new revenue while ensuring safe communities and protecting against underage use," the ACLU said.
Among those named to the panel are Keith Humphreys, a Stanford Health Policy Associate who was a senior policy analyst at the White House Office of National Drug Control Policy in 2009-2010; Erwin Chemerinsky, constitutional law expert and dean of the University of California, Irvine School of Law; two past presidents of the California Society of Addiction Medicine; Dr. Seth Ammerman, a Stanford University professor and member of the American Academy of Pediatrics; Santa Clara County Sheriff Laurie Smith; and Sam Kamin, a Denver University law professor who has been appointed to the Colorado governor's task force for implementing that state's marijuana legalization initiative.
Also included are Alison Holcomb, campaign manager of Washington state's successful 2012 ballot initiative to tax and regulate marijuana; Tamar Todd, staff attorney for the Drug Policy Alliance; Karen O'Keefe, staff attorney for the Marijuana Policy Project; and Neill Franklin, executive director of Law Enforcement Against Prohibition.
In addition to enhancing state revenue streams, marijuana legalization would end the extreme racial disparities in marijuana arrests in California, the ACLU said.
"Marijuana prohibition has harmed communities and families by needlessly ensnaring hundreds of thousands of people in the overburdened criminal justice system, with people of color far more likely to be arrested and prosecuted," said Allen Hopper, director of criminal justice and drug policy for the ACLU of California. "California voters recognize that it's time for change and will overwhelmingly support reforming marijuana laws provided it can be done responsibly with adequate safeguards and assurances that tax revenues will go to fund public schools and other important social services."