A Senate panel has approved an amendment barring the DOJ from going after medical marijuana states, criminal justice reform groups want close scrutiny of US Attorney nominees, a federal appeals court reinstates a lawsuit over a SWAT raid that turned up only tomatoes and tea leaves, and more.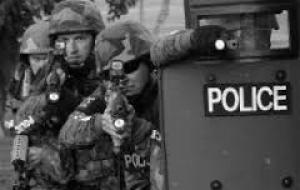 Medical Marijuana
Senate Panel Approves Amendment Defunding DOJ Medical Marijuana Enforcement. The Senate Appropriations Committee voted Thursday to approve an amendment that would block the Justice Department from spending any funds to go after medical marijuana in states where it is legal. The amendment, which passed with strong Republican support, is a striking rebuke to Attorney General Jeff Sessions, who had personally requested that Congress kill the amendment. A House committee yesterday killed a similar amendment, but if the Senate amendment stays in the appropriations bill, it could be the basis for conference committee negotiations later.
Nevada Supreme Court Upholds Medical Marijuana Registry. In a Tuesday decision, the state Supreme Court unanimously upheld the constitutionality of the state's medical marijuana registry. The program had been challenged by a John Doe lawsuit, which complained that the registry and associated fees violated his due process rights. The lawsuit was rejected by lower state courts, and now the state's highest court has agreed.
Law Enforcement
Reform Groups Call on Senate to Closely Scrutinize Trump's US Attorney Nominees. A number of criminal justice reform groups on both the left and the right are calling on Senate Judiciary Chairman Sen. Chuck Grassley (R-IA) to have committee members actually question nominees, whether at hearings or in writing. The groups, which include Families Against Mandatory Minimums, Right on Crime, and the American Conservative Union, want nominees' positions on key issues such as asset forfeiture, sentencing policy, and respecting the authority of states to be made clear. "In view of the recent policies announced by the Department of Justice (DOJ), it is even more important that the Senate understand each nominee's views of the proper role government attorneys play in seeking justice rather than merely 'winning' the cases they bring," the groups wrote. The coalition made an initial request to Grassley in March, but got no response.
Federal Appeals Court Reinstates Lawsuit Against Kansas Cops Who Led SWAT Raid Against Couple Growing Tomatoes. In a blistering decision, the 10th US Circuit Court of Appeals reinstated a lawsuit filed by a suburban Kansas City couple after a SWAT-style raid based on the couple's visit to a garden supply shop and a faulty field drug test that said tea leaves in their trash were marijuana. There was no marijuana. The family sued the Johnson County Sheriff's Office after the 2012 raid. A federal judge dismissed the lawsuit in 2015, but now the 10th Circuit has overruled him.