The era of aerial herbicide spraying of Colombia's coca crops is at an end, California cops raid an Indian reservation marijuana operation, medical marijuana bills are moving in Michigan, and more.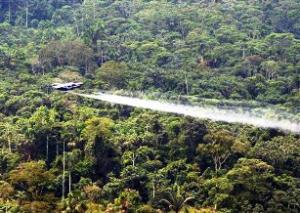 Marijuana Policy
Massachusetts High Court Bans Traffic Stops Solely for Suspected Marijuana. The state Supreme Judicial Court ruled Tuesday that police can't stop motorists simply because they suspect the vehicle's occupants may possess pot. The state decriminalized possession of up to an ounce in 2008, and the court based its ruling on that. "Permitting police to stop a vehicle based on reasonable suspicion that an occupant possesses marijuana does not serve [the] objectives" of the decriminalization law, Justice Margot Botsford wrote for the majority. The case is Commonwealth v. Rodriguez.
Medical Marijuana
California Indian Reservation "Megagrow" Raided by Mendocino County. Mendocino County sheriff's deputies Tuesday raided a commercial marijuana cultivation operation on the Pinoleville Pomo Nation reservation in Ukiah, cutting down about 400 plants, seizing about 100 pounds of trimmed buds, and an undetermined quantity of cannabis oil. The county maintains the operation is illegal under the state's medical marijuana laws.
Michigan House Panel Advances Medical Marijuana Bills. The House Judiciary Committee Tuesday passed a package of bills aimed at legalizing dispensaries and edible forms of medical marijuana. The bills have tighter rules than similar measures that failed last year, and some patient advocates are grumbling. Seed-to-sale tracking is one new addition; an 8% excise tax is another. Now it will be up to the legislature's GOP leadership to advance the bills or not.
New Jersey Will Get a Fourth Dispensary. The state Department of Health has issued a permit for Compassionate Sciences in Bellmawr. It will becomes the state's fourth dispensary when it opens next month.
Pennsylvania Patients, Parents Demand Action on Medical Marijuana Bill. Supporters of delayed medical marijuana legislation rallied at the state capitol Tuesday to urge solons to act on a pending bill. A bill passed the state Senate in May, and House leaders earlier this summer created a group to draft a version that would pass in the GOP-led chamber. Protestors urged House leaders to just hold a vote on the Senate-passed bill.
International
Colombia Shifts on Drug Policy; No More Aerial Eradication. President Juan Manuel Santos Tuesday unveiled a new drug strategy for Colombia that will emphasize alternative development, with forced manual eradication of coca crops to be used as a last resort. There will be no more US-backed aerial spraying of crops with herbicides.