Alaska cannabis cafes are delayed again, Michigan legalizers strike out in court, Ohio becomes the latest medical marijuana state, and more.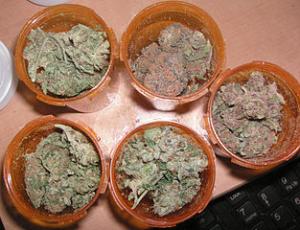 Marijuana Policy
Alaska Regulators Again Delay Decision on Cannabis Cafes. The state's Marijuana Control Board first issued draft rules for an "on-site consumption endorsement" for pot shops back in May, but month's later the rules haven't been finalized, and the board has now decided it will not even take up the issue again for another seven weeks. At least one board member, Brandon Emmett, accused the board of trying to avoid allowing consumption at cannabis cafes. "We can spin it however we want, but it's becoming quite apparent that there is an effort by this board to stamp out consumption anywhere other than one's home," Emmett said.
Michigan Supreme Court Nixes Legalization Initiative's Appeal. It's official: There will be no legalization initiative on the ballot in November. The state Supreme Court Wednesday denied an appeal over signature gathering rules from initiative sponsors MI Legalize. The group had sought to have signatures counted that were gathered outside a 180-day limit, but state courts, now including the highest court, have ruled against them.
Medical Marijuana
Medical Marijuana Now Legal in Ohio, But… As of today, medical marijuana is legal in the Buckeye State, but it could be years before it legally gets into the hands of patients. The state must first create a system to grow, distribute, and regulate medical marijuana. The state has 30 days to appoint a Marijuana Control Commission, which will then have 240 days to set up rules around the fledgling industry. And actually getting businesses up and running and crops in the ground will take even longer.
Heroin and Prescription Opioids
Ohio County Will Offer Immunity to People Turning in Heroin, Opioids. Hamilton County (Cincinnati) Prosecutor Joe Deters has asked for blanket immunity from prosecution for anyone turning in heroin or other deadly drugs, and Common Pleas Court Presiding Judge Robert Ruelman has agreed to the move. The move comes as the region grapples with high levels of heroin and opioid misuse.
Drug Testing
DC Private Schools Sue Over Random Drug Tests of Teachers. The Association of Independent Schools of Greater Washington has sued the District of Columbia for threatening to pull their licenses if they do not subject their teachers to "random and suspicionless" drug testing. Under a DC law, some employees in "safety sensitive" positions in "child development facilities" are required to undergo random drug tests. Some of the private schools in the association have "child development facility" licenses. Until 2013, elementary and secondary schools were exempt from the requirement, but that year, DC issued a memo requiring the schools to employ random drug testing. That's what the schools are suing over.
International
Mexican Police Helicopter Shot Down Over Michoacan Three police officers and the pilot were killed when suspected cartel members shot down their chopper near Apatzingan, Michoacan on Tuesday. The area has been a hotbed of cartel activity, as well as the scene of armed conflict between the cartels and (sometimes) government-supported vigilantes. This is the worst helicopter attack since May 2015, when gunmen in Jalisco brought down a military helicopter, killing ten soldiers.