Tuesday morning, former Baltimore narcotics officer Neill Franklin delivered a letter signed by 73 current and former police officers, judges, prosecutors, and federal agents to Attorney General Eric Holder at the Justice Department in downtown Washington , DC, urging him not to ignore the wishes of voters in Colorado and Washington state who voted to legalize, tax, and regulate marijuana.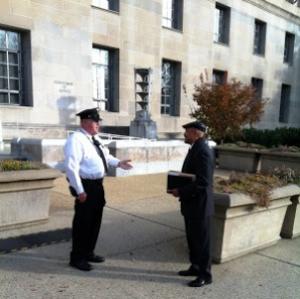 Franklin is the executive director of
Law Enforcement Against Prohibition
(LEAP), which supported Amendment 64 in Colorado and Initiative 502 in Washington. Both measures won with 55% of the vote in this month's elections.
"As fellow law enforcement and criminal justice professionals we respectfully call upon you to respect and abide by the democratically enacted laws to regulate marijuana in Colorado and Washington," the letter said. "This is not a challenge to you, but an invitation -- an invitation to help return our profession to the principles that made us enter law enforcement in the first place."
The Obama administration's response to the legalization votes could help define its place in the history books, LEAP warned.
"One day the decision you are about to make about whether or not to respect the people's will may well come to be the one for which you are known. The war on marijuana has contributed to tens of thousands of deaths both here and south of the border, it has empowered and expanded criminal networks and it has destroyed the mutual feeling of respect once enjoyed between citizens and police. It has not, however, reduced the supply or the demand of the drug and has only served to further alienate -- through arrest and imprisonment -- those who consume it," the letter said.
"At every crucial moment in history, there comes a time when those who derive their power from the public trust forge a new path by disavowing their expected function in the name of the greater good. This is your moment. As fellow officers who have seen the destruction the war on marijuana has wrought on our communities, on our police forces, on our lives, we hope that you will join us in seeking a better world," the letter concluded.
The LEAP letter is only the latest manifestation of efforts by legalization supporters to persuade the federal government to stand back and not interfere with state-level attempts to craft schemes to tax and regulate marijuana commerce. Members of the Colorado congressional delegation have introduced legislation that would give the states freedom to act, while other members of Congress, notably Reps. Barney Frank (D-MA) and Ron Paul (R-TX), have called on the Obama administration to "respect the wishes of voters in Colorado and Washington." Frank and Paul are cosponsors of a pending federal legalization bill.
"We have sponsored legislation at the federal level to remove criminal penalties for the use of marijuana because of our belief in individual freedom," Frank and Paul wrote in a
letter
to President Obama last week. "We recognize that this has not yet become national policy, but we believe there are many strong reasons for your administration to allow the states of Colorado and Washington to set the policies they believe appropriate in this regard, without the federal government overriding the choices made by the voters of these states."
"We seem to be at a turning point in how our society deals with marijuana," said Franklin Tuesday. "The war on marijuana has funded the expansion of drug cartels, it has destroyed community-police relations and it has fostered teenage use by creating an unregulated market where anyone has easy access. Prohibition has failed. Pretty much everyone knows it, especially those of us who dedicated our lives to enforcing it. The election results show that the people are ready to try something different. The opportunity clearly exists for President Obama and Attorney General Holder to do the right thing and respect the will of the voters."
"During his first term, President Obama really disappointed those of us who hoped he might follow through on his campaign pledges to respect state medical marijuana laws," continued Franklin. "Still, I'm hopeful that in his second term he'll realize the political opportunity that exists to do the right thing. Polls show 80% support for medical marijuana, and in Colorado marijuana legalization got more votes than the president did in this most recent election."
"From a public safety perspective, it's crucial that the Obama administration let Colorado and Washington fully implement the marijuana regulation laws that voters approved on Election Day," added LEAP member Tony Ryan, a retired 36-year Denver Police veteran. "There's nothing the federal government can do to force these states to arrest people for marijuana possession, but if it tries and succeeds in stopping the states from regulating and taxing marijuana sales, cartels and gangs will continue to make money selling marijuana to people on the illegal market. Plus, the states won't be able to take in any new tax revenue to fund schools."
At a Tuesday noon press conference, Franklin and other LEAP members hammered home the point.
"LEAP members have spent the majority of their careers on the front line of the war on drugs and have seen the failure of prohibition," he said. "We call now to end prohibition and embrace a new drug policy based on science, facts, and the medical field."
Former Seattle police chief Norm Stamper told the press conference the war on marijuana was essentially a war on youth, especially minority youth, that sours police-community relations.
"I have come to believe that the war on marijuana has made enemies of many law-abiding Americans, especially many young, black, Latino, and poor Americans," Stamper said. "The law and the mass incarceration behind it have set up a real barrier between police and the community, particularly ethnic communities."
Legalization and regulation will help change that negative dynamic, Stamper said.
"This frees up police to concentrate on violent, predatory crimes, those crimes that really scare people, drive property values down, and diminish the quality of our lives," he said. "We're convinced that by working with the community, including those victimized by these laws, we can build an authentic partnership between police and the community and create true community policing, which demands respect for local law enforcement. By legalizing we have a chance to significantly reduce race and class discrimination. Watch what we do, we will use these states as a laboratory, and the sky will not fall."
"I joined this movement when I was made aware the war on drugs was a war on our community," said Alice Huffman, president of the California NAACP. "Instead of being protected, we were being targeted. We don't feel like the police are protecting us; instead, they have declared war on our young men and women. The amount of resources being used in this war to divide the community is why we have so many incidents between law enforcement and our community. We know that come Friday and Saturday night there will be a ring of law enforcement personnel ringing our community looking to make those low-level drug arrests."
"I believe the regulation and legalization of marijuana is not only long overdue, but will make our communities safer," Huffman continued. "I am very hopeful that our president, who has some experience of his own with marijuana use, which didn't prevent him from becoming a strong leader, will see the light and get rid of these approaches that do nothing but condemn our people to a life of crime because they have felonies and are no longer employable. Instead of treating them like criminals, maybe we can treat them like people with health problems."
The Obama administration has yet to respond substantively to this month's victories for marijuana legalization. Nothing it says or does will stop marijuana from becoming legal to possess (and to grow in Colorado) by next month in Washington and by early January at the latest in Colorado, but it could attempt to block state-level attempts to tax and regulate commercial cultivation and distribution, and it has some months to decide whether to do so. Tuesday's letter and press conference were part of the ongoing effort to influence the administration to, as Franklin put it, "do the right thing."