Brazilian President Luis Inacio "Lula" da Silva last week signed a bill creating a new drug law in South America's largest and most populous nation. Under the new law, drug users and possessors will not be arrested and jailed, but cited and offered rehabilitation and community service. The new law marks an important shift in Brazilian drug policy, with drug users now being officially viewed not as criminals but as people in need of medical and psychological help.
"A drug user is not a case for the police, he's a drug addict," Elias Murad, the congressman who sponsored the bill, told the Christian Science Monitor after Lula signed the bill into law. "He's more of a medical and social problem than a police problem, and that's the way thinking is going these days, not just here in Brazil but the world over. We believe that you can't send someone who is ill to jail."
"Smoking marijuana is not a crime," agreed Paulo Roberto Uchoa, who heads Brazil's National Antidrug Secretariat. "A drug user is... someone who needs counseling and information. The ones who traffic drugs are the criminals."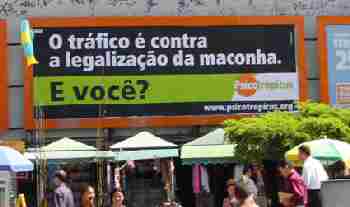 With 170 million, Brazil has emerged as a major drug market. Marijuana (or "maconha") use is common, and Brazil claims the dubious distinction of being the world's second largest cocaine market, behind the United States. Brazil has traditionally imprisoned drug users, but that is expensive and it raises the risk they will be exposed to and join the country's well-armed and violent drug trafficking gangs or "commands."
Previously, small-time drug possessors faced between six months and two years in prison, but under the new law, they face only one or more of the following: treatment, community service, fines, or suspension of their drivers' licenses. Penalties for drug traffickers and sellers, however, have been increased slightly. Under the old law, dealers face three to 15 years in prison; now they face five to 15. The law also creates a new crime of being a "narcotrafficking capitalist," punishable by between eight and 20 years in prison.
While Brazilian government officials congratulated themselves on their progressive approach, not everyone saw the glass as half full. "Let's not fool ourselves, drug use is still a crime," said Martin Aranguri Soto, a post-graduate political science student studying imprisonment at the Pontificia Universidade Catolica in Sao Paulo (and who also serves as DRCNet's translator). "Yes, the new mantra is that this has shifted from being a police matter to a public health matter," he told Drug War Chronicle. "But people are still being punished for the choices they made, and if they don't comply with the 'socio-educational measures' the law mentions -- whatever those are -- they can still be imprisoned for six to 24 months. As if they owed society something for using drugs or needed to be 'educated' or 'corrected.'"
And while Brazilian officials are touting the alternative penalties as a better approach, Aranguri Soto suggested their primary motivation was to cool off Brazil's overcrowded and overheated prisons, home to some of the country's toughest drug overlords (who operate from behind bars) and the scene of repeatedly violent rebellions, most recently in May, when more than 160 people were killed in prison riots and street-fighting organized by the drug commands.
"The big argument supporting the alternative penalties is that it will alleviate overcrowding in the prisons," he said. "You also hear rhetoric about avoiding 'moral contamination' -- the same old formula repeated by criminologists for almost 200 years now."
Prosecutor Ricardo de Oliveira Silva, who advocated for the new law, supported Aranguri Soto's contention, telling the Christian Science Monitor the new law could mean judges send one-third fewer people to jail. That would greatly reduce overcrowding, he said.
"This law does not decriminalize drug use," complained Aranguri Soto. "It keeps punishing users, but now it treats them like sick people. It activates therapeutic justice and legitimizes the state's moralizing role when it comes to individual conduct," he argued. "The new law is a trap, a modern, compassionate, healing, therapeutic trap."
Soto and his Brazilian colleagues have now joined a debate that has swirled in US reform circles for years but which intensified with the campaign for, and passage of, California's Proposition 36 in the November 2000 election. A more hopeful view was taken in a 2003 interview with Drug War Chronicle by King County Bar Association Drug Policy Project chief Roger Goodman. "Reform is always two steps forward, one step back," Goodman said, "but now this whole idea of treatment over incarceration has been mainstreamed. It's no longer radical. The next step is government regulation of drugs instead of government regulation of human behavior. That's much more radical."
Either way, Brazil's new law has been a long time coming. First introduced by Congressman Murad in 1991, the bill took five years to pass the lower house and another five years to pass the Senate. It then languished for another five years before the Lula government got around to signing it.
Now, Brazil has taken a half-step forward. The question now is how the new law will be implemented and whether it will serve as a stepping stone to an even more progressive drug policy or an obstacle to an even more progressive drug policy.