New York is rolling out a drug checking program, Seattle begins a crackdown on public drug use, and more.
Drug Policy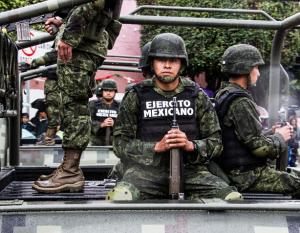 Oregon Lawmakers Hold Hearing on Measure 110 Issues
. Two years after voters approved Measure 110, which decriminalizes drug possession and allocates hundreds of millions of dollars in marijuana tax revenues to drug prevention and treatment, the measure is under concerted attack. With concerns over overdoses and public drug use rising, a legislative joint committee on addiction met last week with Measure 110 on its mind.
"The crisis that we are facing in our addiction system is not a big-city crisis or a rural-community crisis, it's not a Republican crisis, it's not a Democrat crisis or an Independent crisis, this is a crisis in all of Oregon," said Sen. Kate Lieber, D-Portland, who chairs the committee.
Lieber vowed that the committee would examine all aspects of the crisis and consult with a broad range of experts to come up with policy solutions that lawmakers could address in the 2024 legislative session. Democrats hold a majority in the legislature and have not committed to repealing Measure 110, but Lieber said it could use some adjustments.
"It is clear that the ballot measure that Oregonians passed in 2020 is not delivering what we need it to deliver, and we need to make systemwide change to try to address this issue," she said.
Her Republican counterpart, Senate Minority Leader Tim Knopp, was more inclined to attack Measure 110.
"I agree that Measure 110 is not delivering. In fact, I think it has been a massive failure. I think it was born to fail for a couple of reasons. One, is that there was not on-demand treatment that was ready to go when decriminalization happened, and I think that was a huge mistake," he said. "I also think that community harm reduction was not really contemplated with Measure 110 and making sure that those who are causing harm to the community through addiction get to treatment and recovery."
During the hearing, lawmakers heard from addiction prevention and recovery experts, none of whom would go so far as to recommend repealing Measure 110. Instead, they said that the state's addiction treatment and recovery systems are understaffed and underfunded.
Seattle Police Crack Down on Public Drug Use as New City Ordinance Goes into Effect. Last month, the city council passed an ordinance criminalizing public drug use and possession under municipal law, and last Friday, police began emphatically enforcing it. Squads of police officers swept through two neighborhoods -- Little Saigon and downtown Pine Street -- and arrested about two dozen people.
Ten people were jailed, mostly on outstanding felony warrants, while another 15 people who were arrested were referred to case workers and released.
Police Chief Adrian Diaz said the department would conduct similar operations on a weekly basis.
"We are going to be compassionate in our approach to getting people connected with services while still making sure our city streets are safe," he said.
But opponents worry the law will punish people for addictions and called it a new version of the war on drugs, which subjected Black and brown people to disproportionate enforcement. And they noted that access to treatment remains severely limited.
"Data shows the minute you're arrested, there are cascading consequences for your stability," said Councilmember Teresa Mosqueda , who opposed the new law. "People are more likely to die while in jail due to withdrawal or die upon release due to overdoses," she said. "We don't want public consumption throughout the streets, but we do not have the treatment resources necessary to implement this policy."
Harm Reduction
New York State Department of Health Announces Drug Checking Programs The New York State Department of Health's Office of Drug User Health (NYSDOH-ODUH) has implemented four drug checking programs operated by state funded Drug User Health Hubs (DUHH). Drug checking is used as a consumer safety tool -- either before or after consumption -- and a method to engage people who use drugs (PWUD) in other harm reduction services. This information can help inform the larger PWUD community about new or emerging adulterants in the local drug supply and how to decrease their risk of overdose from dangerous substances like fentanyl.
"As new or dangerous substances, including fentanyl, continue to appear in the drug supply, the risk of overdose for people who use drugs continues to rapidly increase," State Health Commissioner Dr. James McDonald said. "Given this ever-changing landscape, these essential comprehensive drug checking services will help protect New Yorkers and help us to better understand the local drug supply and improve overall drug user health."
The technology used to test for drugs produces results within minutes and provides the technician the ability to determine the chemical composition of the sample. To ensure that technicians can interpret test results accurately, the NYSDOH-ODUH has contracted with an experienced drug checking consultant who provides training and ongoing technical assistance.
For further support, the drug checking program also includes the use of a confirmatory laboratory that allows DUHH to send residual amounts of inactivated drug samples to the lab and in compliance with Drug Enforcement Administration and postal regulations. Technicians will send the first 150 residual samples to the laboratory for additional testing to confirm the accuracy of initial analysis. The laboratory providing the additional analysis utilizes gas chromatography coupled with mass spectrometry (GC/MS), which is regarded as a gold standard for drug testing.
"The unregulated drug supply is increasingly unpredictable and dangerous. Having comprehensive drug checking available is a strategy to decrease potential harms, including overdoses, and supports our ongoing work to expand and enhance harm reduction services across New York State," said Office of Addiction Services and Supports Commissioner Dr. Chinazo Cunningham.
The drug checking programs are located in Central New York, the Southern Tier, the Mohawk Valley, the Capital Region and Long Island. The program involves staffing and training at each participating DUHH. Governor Kathy Hochul specifically mentioned in her 2023 State of the State Address the expansion of drug checking technology within DUHHs to provide a more comprehensive evaluation of substances before and after use. This enhanced technology will be available at Drug User Health Hubs so that individuals can test their drugs to mitigate drug-related harms and prevent overdose.
International
Irish Parliamentarians Call for "Radical Change" in Drug Policy After Citizens' Assembly Recommends Decriminalization. Over the weekend, the Citizens' Assembly on Drug Use voted to recommend that the country move toward a "comprehensive health-led" approach to drug policy, including a form of drug decriminalization. In response, a cross-party group of parliamentarians is calling for a "radical change" in drug policy.
In a statement on Monday evening, a group parliamentarians, including politicians from Fianna Fáil, Fine Gael, the Green Party, Labor, and People Before Profit, said that the decision by the Citizens' Assembly "reinforces the case for radical change in Irish drug policy".
"We urge the Oireachtas [the parliament] to assign the report, when published, to the Joint Oireachtas Committee on Justice to allow them carry out detailed deliberation and to propose draft legislation," the statement reads. We emphasize the need for detailed analysis and recommendations on the decriminalization of the drug user and regulation of cannabis."
Mexican Cartel Guns Down 13 Cops in Guerrero. Supposed cartel gunmen ambushed police in Coyuca de Benitze, Guerrero, on Monday, leaving 13 dead, including the local police chief and municipal security secretary. This was only the latest in a growing number of deadly attacks against police in the region.
At least 34 police officers have been killed in Guerrero so far in 2023 -- one-tenth of the total number of police killed countrywide -- making it the second most dangerous state for law enforcement.
The state has been plagued by turf wars between various drug trafficking organizations, who seek to dominate both the opium and marijuana-growing mountainous interior and the consumer market in the tourist city of Acapulco and other coastal resort areas.