A Bernie Sanders petition calls for marijuana legalization and an end to the drug war, a Dutch bank gets hit with a massive fine for cartel money laundering, New York's governor takes flak from drug reform groups on a couple of fronts, and more.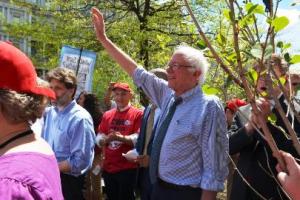 Marijuana Policy
Bernie Sanders Petition Asks Congress to Legalize Marijuana. Sen. Bernie Sanders (I-VT) has sent out an online petition to his email list subscribers asking Congress to legalize marijuana and "end the war on drugs." In 2015, Sanders filed the first ever marijuana legalization bill in Congress. Even though the petition is unlikely to lead to any results while Republicans control the Congress, it will help Sanders burnish his credentials as a leader of the progressive wing of the Democratic Party.
Arizona Legalization Bill Filed. Reps. Mark Cardenas (D-Phoenix) and Todd Clodfelter (R-Tucson) filed a marijuana legalization bill Thursday. HCR 2037 would legalize the possession of up to an ounce of pot, allow for the cultivation of up to six plants, and create a system of taxed and regulated marijuana production and sales. Voters narrowly rejected a legalization initiative there in 2016.
New Jersey Legalization Hearing Set for Next Month. Assemblyman Joseph Danielsen (D-Somerset), chairman of the Assembly Regulatory Oversight and Reform and Federal Relations Committee, said Thursday the committee will hold a hearing on marijuana legalization on March 5. Gov. Phil Murphy (D) campaigned on marijuana legalization and reiterated that pledge during his inaugural address last month.
Seattle to Expunge Past Marijuana Convictions. Following the lead of San Francisco, Seattle Mayor Jenny Durkan said Thursday the city is moving to automatically clear past misdemeanor convictions for marijuana possession. "For thousands of people in Washington state, a misdemeanor marijuana conviction had huge implications: It could be a barrier to housing, to getting credit, to getting good jobs and education," Mayor Jenny Durkan told a news conference. "It is a necessary step to right the wrongs of what was a failed war on drugs." Voters in Washington state approved marijuana legalization in 2012.
Medical Marijuana
Illinois Bill to Let People Prescribed Opioids Get Temporary Medical Marijuana Cards Advances. The Senate Executive Committee approved Senate Bill 336 on Wednesday. The bill would allow people who have been prescribed opioids to apply for a temporary medical cannabis card. If passed, those prescribed opioids would be able to participate in the program if their applications are approved by the state. The background check and fingerprinting process normally required for applicants of the program would also be waived that first year because of the urgency of the crisis.
Heroin and Prescription Opioids
New York Drug Reform, Harm Reduction Groups Criticize Governor's Move to Stiffen Fentanyl Analog Penalties. The Harm Reduction Coalition, the Drug Policy Alliance, and VOCAL-NY are among the organizations calling out Gov. Andrew Cuomo (D) over his move to add 11 fentanyl analogs to the state's controlled substances schedule, a change that would increase the number of fentanyl varieties that would garner top felony charges. "The governor boasts about giving law enforcement the tools they need to make more arrests, but says nothing about providing people at risk of overdose the tools they need to survive," Daniel Raymond of the Harm Reduction Coalition said Thursday. "We won't end the overdose crisis by filling up jail cells."
New Synthetic Substances
New York Drug Reform Groups Criticize Governor's Move to Further Criminalize Synthetic Cannabinoids. The Manhattan-based Drug Policy Alliance and the drug user group VOCAL-NY are opposing Gov. Andrew Cuomo's (D) call to further criminalize the sale of synthetic cannabinoids, also referred to as "synthetic marijuana" or "K2." Such laws do little to curb use, do nothing to increase public health and safety in New York State, and undermine the ability of the state to effectively prevent minors from obtaining the substances, the groups said. The state should just legalize marijuana instead, the groups said.
International
Dutch Bank Hit With $369 Million Fine for Laundering Mexico Drug Cartel Money. The Dutch bank Rabobank has been fined $369 million by the US government after it admitted handling millions in illicit funds, the Justice Department announced Wednesday. The bank also pleaded guilty to obstructing the investigation in trying to avoid repeating sanctions imposed on it in 2006 and 2008 for "nearly identical failures," DOJ said. "When Rabobank learned that substantial numbers of its customers' transactions were indicative of international narcotics trafficking, organized crime, and money laundering activities, it chose to look the other way and to cover up deficiencies in its anti-money laundering program," Acting Assistant Attorney General John Cronan said. A former Rabobank vice president, George Martin, entered into a deferred prosecution agreement with the US concerning his role in the case, according to the DOJ. He admitted -- in a federal court in San Diego in December -- to playing a role in setting up the policies that prevented additional controls. The bank will also have to pay a $50 million penalty to the Office of the Comptroller of the Currency.