Reefer Movie Madness: The Ultimate Stoner Film Guide, by Steven Bloom and Shirley Halperin (2010, Abrams Image Press, 336 pp., $18.95 PB)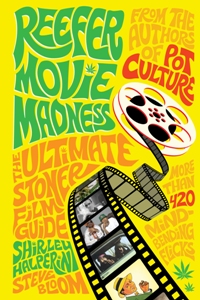 Even the wonkiest of drug policy reformers can't spend all their time reading policy proposals, research results, and desert-dry academic treatises, but
Reefer Movie Madness
is much more than a mere guilty pleasure. Penned by former High Times editor and
Celebstoner.com
proprietor Steve Bloom and former High Times intern turned entertainment writer Shirley Halperin,
Reefer Movie Madness
is not only a most excellent guide to stoner filmdom, it also maps the cultural acceptance of marijuana in America through film history.
A follow-up to the pair's well-done, comprehensive compendium of all things cannabinical,
Pot Culture
,
Reefer Movie Madness
profiles more than 700 films that are about marijuana, feature marijuana in key scenes, feature other drugs, or just plain a gas to watch stoned. The films are ranked via a five-star rating system, and the authors demonstrate exquisite taste and filmic knowledge in their rankings (meaning that their tastes agreed with mine).
They begin at the beginning, going back even before 1936's anti-pot propaganda classic
Reefer Madness
to note such obscure films as 1924's
High on the Range
, in which Cowboy Dave smokes a reefer, and 1933's
International House
, in which jazz legend Cab Calloway performs "Reefer Man."
But in the late 1930s, as Harry Anslinger crusaded against the demon weed, so did Hollywood. In addition to
Reefer Madness
, the movie industry cranked out propaganda like
Marijuana: The Weed with Roots in Hell
(1936), Assassin of Youth (1937), and just a handful of years later,
Devil's Harvest
(1942). While such films helped shape American attitudes at the time, and for decades to come, they are now the stuff of nonstop laugh fests.
While marijuana and other drug use was portrayed intermittently, and occasionally, even with some sympathy for drug users, it wasn't until the cultural revolution of the 1960s, bringing us classic stoner films like
Wild in the Streets
(1968) and
Easy Rider
(1969), that pot-smoking began to be widely portrayed as anything but deviant. And it wasn't until the late 1970s that Cheech and Chong's
Up in Smoke
gave birth to the now ubiquitous stoner comedy genre (although Bloom and Halperin give the classic
Animal House
, with its single hilarious pot-smoking scene partial credit for establishing the genre, too).
By now, stoner movies and depictions of pot-smoking are everywhere, most notably, but not only, in the stoner comedy genre. Films like
Half-Baked
,
How High
,
Friday
, and
Strange Wilderness
are now being produced by mainstream production companies, and the Judd Apatow franchise alone has been responsible for numerous box office hit stoner flicks, including
The 40-Year-Old Virgin
, the underrated
Walk Hard: The Dewey Cox Story
,
Knocked Up
,
Forgetting Sarah Marshall
,
Superbad
, and
Pineapple Express
. This year's
Get Him to Greek,
featuring the inimitable and charismatic Russell Brand and Apatow regular Jonah Hill, was released too late for inclusion, but will certainly make the next edition.
The book is divided into sections by genre: comedy, drama, sci-fi/fantasy/horror, action, sports, music, documentaries and offers spot-on capsule reviews of more than 700 films, complete with plot summaries, star rankings, and choice quotes. Reefer Movie Madness also includes themed lists (Best Buds: Ten stony duos that take friendship to a higher level; Stoner Inventions and Innovations), celebrity Q&As, and lists of favorite stoner movies from well-known actors, directors, and musicians, including Cheech & Chong, the Trailer Park Boys, Snoop Dog, and Melissa Etheridge, among many more.
Reefer Movie Madness
is a bookshelf must for pot movie fans, whether they be culture mavens or fully-baked couch potatoes. Even for veteran stoner film watchers, it contains some delicious movies you've never seen before and helps you remember long-forgotten gems. It has already vastly increased the length of my Netflix queue, and once you pick it up, the same thing is going to happen to you.
But beyond that,
Reefer Movie Madness
is a valuable and important contribution to charting and understanding the pop cultural role of marijuana in the past few decades. And it's a gas to read, stoned or not.