US Marine commanders in Okinawa and US Air Force commanders in England have moved this month to ban salvia divinorum, the fast-acting, short-lived hallucinogen that has become increasingly popular in recent years. Although there is no general stricture against salvia in the US armed forces, the bans are the latest in a small but growing list of military bases or commands that have banned the substance.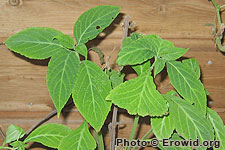 In Okinawa, Marine Corps Bases Japan issued an
order banning salvia and other "legal highs"
on September 10. The other substances included in the order were mitragyna speciosa korth, spice, blue lotus, convolvulaceae argyreia nervosa, lysergic acid amide, amanitas mushrooms, datura, absinthe, and 5-MEO-DMT. The order prohibits the use, possession, or distribution of those substances by Marine Corps personnel and base workers.
The new order builds on Secretary of the Navy Instruction 5300.28D, which prohibits abusing lawful substances, such as cough syrup, edge dressing and keyboard cleaner to produce "intoxication, excitement, or stupefaction of the central nervous system." Both the Navy order and Marine Corps Bases Japan order are general orders under the Uniform Code of Military Justice. Violators face administrative action, court martial, or both, with a maximum punishment of dishonorable discharge, two years in the brig, and forfeiture of all pay and allowances.
The driving force behind the new order, officials stated, is to eliminate any uncertainty that substances used to "get high" are prohibited. They also cited fears that the drug use could alienate their Japanese hosts.
"Any substance abuse can affect individual and unit readiness," said John Velker, the director of the Marine Corps Community Services Substance Abuse Counseling Center, adding that people turn to drugs for various reasons. "There is a better way to live and deal with frustration than trying to get high."
Two days later, Col. Jay Silveria, commanding officer of the 48th Fighter Wing, based at Britain's RAF Lakenheath and RAF Feltwell air bases, issued an order banning salvia and an herbal concoction known as Spice. Violators could be booted out of the Air Force or court-martialed.
"The presence of persons, in a military environment, who engage in drug abuse through the use of either salvia divinorum or Spice, seriously impairs the ability to accomplish the military's mission," Silveria wrote in the order. "Members who abuse drugs such as salvia divinorum or Spice adversely affect the ability of all units at the 48th Fighter Wing."
"This order spends a little time talking about these two products in an effort to warn people," said Air Force Lt. Col. John Hartsell, the staff judge advocate at RAF Lakenheath. "It's something we got to keep the airmen away from. "It is one of those things that has kind of come up in the United States and has begun to pop up randomly in Europe."
While the Department of Health and Human Services estimated in February that 1.8 million people, most of them young, had tried salvia divinorum, it doesn't appear to be a big problem with airmen in England. Hartsell said he was aware of only one incident involving a serviceman using salvia.
While salvia has been banned in some US states, it is not a controlled substance under federal law. But at least four US Air Force bases -- Malmstrom AFB in Montana, Hill AFB in Utah, Nellis AFB in Nevada, and Tinker AFB in Oklahoma -- have already banned it.