Mitch McConnell changes course and okays a Senate vote on the First Step Act, McConnell ensures the hemp provision remains in the farm bill, a Moscow court ruling could run the city's only harm reduction NGO out of business, and more.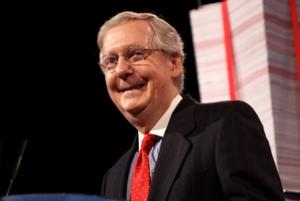 Marijuana Policy
Illinois Pot Conviction Expungement Bill Gets More Support. A bill filed by Rep. La Shawn Ford (D-Chicago) that would allow people to clear low-level marijuana convictions has picked up support from the legislative leadership. Assistant Majority Leader Kimberly Lightford (D-Chicago) announced last Friday that she was supporting the bill. The state decriminalized the possession of up to 10 grams in 2016, but that law didn't address those who had already been convicted of small-time possession.
Sentencing Reform
In Last Minute Switch, McConnell Says Reform Bill Will Get a Senate Vote. Senate Majority Leader Mitch McConnell (R-KY) said Tuesday that he will bring a prison and sentencing reform bill, S. 3649, to the Senate floor for a vote. "At the request of the president and following improvements to the legislation that has been secured by several members, the Senate will take up the recently revised criminal justice bill," McConnell said from the Senate floor. The move comes after McConnell just last week said there wasn't time to deal with the bill, and time remains a critical factor. The House earlier this year passed a prison reform bill that didn't include sentencing reforms, so if the bill passes the Senate, it will have to go back to the House for approval. This is by no means a done deal, but at least limited sentencing reform remains alive at this point.
Industrial Hemp
Final Version of Farm Bill Includes Hemp Provision. The omnibus farm bill set to be passed by the Senate this month includes the legalization of industrial hemp. That would allow US farmers to cultivate, process, and sell hemp. The hemp provision is being championed by Senate Majority Leader Mitch McConnell (R-KY). The bill had originally included a ban on people with felony drug convictions, but under a compromise, that ban would end after ten years.
International
New Zealand Legalizes Medical Marijuana. The government has approved a bill that will make medical marijuana widely available for thousands of patients over time but will at first be limited to terminally ill patients. The move comes ahead of a nationwide referendum on recreational marijuana sometimes in the next two years.
Moscow Court Imposes Punishing Fine on City's Sole Harm Reduction NGO. A Moscow court has ordered the Andrey Rylkov Foundation, the city's only harm reduction non-profit, to pay a fine of $10,000 for publishing what it called "drug propaganda." The foundation aroused the ire of the court by publishing safety advice about synthetic cathinones ("bath salts") in a drug users' newsletter. The advice didn't recommend taking those drugs but urged users to be careful if they did. The fine, which Amnesty International has described as "suffocating," could drive the foundation out of business if it can't come up with the funds to pay it by Christmas, leaving Moscow without a single harm reduction NGO.