The death last week of a Florida State University student who was killed while acting as an informant for the Tallahassee Police Department after being arrested on marijuana and ecstasy charges has sparked intense criticism of the police. On Wednesday, around 100 people gathered at the Old Capitol to call for police accountability in the murder of Rachel Hoffman, 23, who was allegedly shot and killed by two men she was trying to set up for the police.
Tallahassee police have been on the defensive since Hoffman's murder last week. Various law enforcement spokesmen have attempted to blame Hoffman for her death by arguing she didn't follow proper informant procedures.
But the protestors at the capitol weren't buying it. They criticized both Tallahassee police behavior in sending Hoffman out to buy cocaine and a gun, but they also leveled strong criticisms at the informant system in general.
"What we're trying to do is make sure TPD is accountable for their actions," Matthew Zimmerman, vice president of the Florida State University chapter of the National Organization for the Reform of Marijuana Laws, told the Tallahassee Democrat.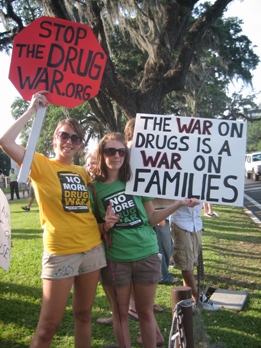 "I just think it was stupid that this all happened over drugs," said Mckenzie Smith, who said she had known Hoffman since childhood. "I don't think her life was worth busting two dudes."
"TPD had Rachel Hoffman going into a situation she had no place being in, just because she was associated with marijuana," said Rachel Lillibridge.
Zimmerman added, "I don't think two wrongs make a right. To make someone who's been convicted rat out someone else to get their sentence lessened is the right thing to do, I think everyone should be treated according to the law."
Two men have been arrested in Hoffman's death and are expected to be charged with murder shortly. But for many in Tallahassee, the shooters aren't the only guilty parties.