One narcotics supervisor sexually assaults a female snitch, another makes off with the drug buy money. A pair of jail guards go down after getting caught having sex in a car in a parking lot. And that's just for starters. Let's get to it: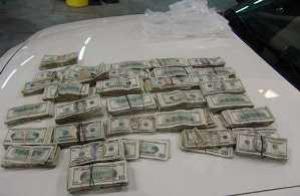 In Athens, Ohio,
the head of the Athens County Narcotics Task Force was arraigned last Friday
on charges he sexually assaulted a female undercover informant. Deputy Jerry Hallowell, 43, faces three counts of sexual battery and one count of attempted sexual battery. The sexual batteries occurred August 6, September 3, and September 5, while the attempted battery occurred on September 9. Hallowell is looking at up to 16 years in prison if convicted on all counts. He is out on $50,000 bond and has been suspended with pay pending further action by the department.
In Syracuse,
New York, a former Syracuse police officer pleaded guilty Monday
to charges he ran a drug trafficking operation from his home and sexually abused two teenage boys. Fredrick Baunee, 49, pleaded guilty to two felony counts of first-degree sexual abuse and one felony count of fourth-degree conspiracy. He was arrested in May for running a drug ring from his home and using the teens as dealers and for sexual activities. Braun was suspended from the police force in 2007 and retired after being convicted of giving alcohol to and inappropriately touching a 14-year-old boy. He will be sentenced to seven years in prison, but remains free on $100,000 bail until formal sentencing in November.
In Durham, North Carolina,
a former Durham County narcotics supervisor was indicted September 7
for allegedly stealing nearly $100,000 in sheriff's department funds for paying informants and making drug buys. Former Lt. Derek O'Mary faces 26 counts of embezzlement and one count each of obstructing justice and possession of cocaine. O'Mary, 43, was an 18-year veteran of the sheriff's office and had risen through the ranks to a lieutenant supervising the Sheriff's Anti-Crime & Narcotics Unit. He was fired in April 2009 after his own narcs snitched him out.
In Gaffney, South Carolina,
money from a recent drug bust has gone missing
and the Cherokee County sheriff wants to know where it went. Sheriff Bill Blanton has called in the State Law Enforcement Division to try to find out what happened to the undisclosed amount of cash missing from the Cherokee County narcotics division
In Philadelphia,
three former Philadelphia police officers already facing corruption charges were hit with new ones September 9
. Robert Snyder, Jamez Venziale, and Mark Williams were charged in July with plotting with a suspected drug dealer to steal drugs in a staged traffic stop. Now the three face additional charges of possession with intent to distribute within 1,000 feet of a school. Snyder and Williams were also charged with planning to rob a man they believed was a mobster collecting gambling proceeds. Authorities say that plot was never carried out.
In Lebanon, Ohio,
two former Warren Correctional Institution guards were indicted last Friday
on drug charges after they were caught having sex in a vehicle with hundreds of pills and a note about inmates getting illegal drugs. Annika Skinner, 36, faces nine counts of deception to obtain drugs and a single misdemeanor drug possession count. Herbert Cook, 61, faces one count of drug trafficking. Skinner is looking at up to 19 years in prison and Cook is looking at one. Both had resigned as prison guards in July as authorities investigated after they were discovered going at it in May in a parking lot. Police recovered more than 100 pills, as well as plastic bags and the note indicating inmates were getting drugs. Both are free on bail.
In Sonora, California,
a former prison guard at the Sierra Conservation Center was sentenced last week
to a year in county jail for smuggling marijuana to an inmate. Matthew McCollum, 28, was convicted of bringing pot to an inmate in 2008 and 2009.
In Graceville, Georgia,
a Graceville Correctional Facility guard was arrested September 8
on charges he planned to smuggle marijuana into the jail. Guard Brandon Sikora, 21, went down after agreeing to take a half-pound of pot into the jail and pocketing $2,000 for his efforts. The man who Sikora met with was a police informant. Now Sikora is charged with attempting to introduce contraband into a secure facility and possession of more than 20 grams of marijuana with intent to distribute. He has also been placed on suspension from the correctional facility pending the outcome of an investigation.