President Obama has just commuted the sentences of another 153 drug offenders, Maine legalization foes concede their recount isn't going anywhere, Marc Emery's Montreal pot shops get raided in a hurry, and more.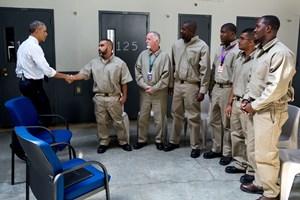 Marijuana Policy
Guam Governor Calls for Marijuana Legalization. Guamanian Gov. Eddie Calvo (R) says it's time to legalize it. "I want us to look at how states navigated into recreational marijuana," Calvo, a Republican, said in a Facebook post on Monday. "Let's figure it out and then tax the heck out of it and use those taxes to help fund our hospital, public safety and education." The comments come just days after Calvo vetoed a bill that would have allowed medical marijuana patients to grow their own, saying it would "impose new and different duties upon our health and law enforcement agencies that will deplete their already strained resources."
Maine Legalization Opponents Give Up on Recount. The anti-legalization group that challenged the narrow victory of Question 1 in last month's elections has given up the ghost. No on 1 said Saturday it was apparent that the recount would not change the outcome. "We promised folks that if we came to a point where we could not see any chance of reversing the result, we would not drag the process out,"said Newell Augur, legal counsel for the No on 1 campaign. "We are satisfied that the count and the result are accurate." Now, the election result can be certified by the secretary of state, and legalization should go into effect sometime next month.
Medical Marijuana
Imprisoned California Dispensary Operators Seek Presidential Commutation. Luke Scarmazzo and Ricardo Montes operated a medical marijuana dispensary in Modesto, California, until their arrest by federal drug agents 10 years ago. They were prosecuted and convicted of federal drug crimes for their efforts and sentenced to 21 years 10 months and 20 years, respectively. Now, they are formally seeking sentence commutations from President Obama, who has cut the sentences of more than a thousand other federal drug prisoners so far this year. The pair point out that they would not have been prosecuted under current federal policies largely turning a blind eye to marijuana in states where it is legal, whether recreationally or merely for medical purposes.
Pardons and Commutations
Obama Issues Another Round of Sentence Commutations. The White House announced Monday that President Obama has commuted the sentences of another 153 federal prisoners, bringing the total this year to more than 1,100. A list of the prisoners and their offenses is not yet available, but Obama's earlier commutations had been directed almost entirely at people serving draconian drug sentences.
International
Marc Emery's Montreal Pot Shops Raided One Day After Opening. Long-time Canadian pot gadfly Emery and nine others were arrested after a series of raids Friday on his chain of Cannabis Culture pot shops. While Canada is moving to legalize marijuana, it hasn't done so yet, and authorities are working to keep the lid on the bubbling industry. Emery slammed Montreal Mayor Denis Coderre for the raids. "The mayor's behavior is despicable," he said. "If the mayor of Montreal wants to keep his city backward, behind and full of oppression, then that is the statement he just made to the world." As conditions of his bond, Emery cannot consume marijuana, communicate with anyone involved in the Cannabis Culture shops, or be in the province of Quebec except to show up for court dates.
China Denies Being Source of New Synthetic Drugs. Chinese officials have called assertions that China is the source of synthetic opioids linked to the deaths of thousands of drug users "unsubstantiated." Such statements "lack the support of sufficient numbers of actual, confirmed cases," China's National Narcotics Control Commission told DEA's Beijing office in a fax dated Friday. The DEA has said that China is the predominant source of fentanyl, the synthetic opioid many times more powerful than heroin, which has been implicated in thousands of drug overdose deaths.