[This article updates a version previously published.]

by Bernd Debusmann, Jr.

Mexican drug trafficking organizations make billions each year smuggling drugs into the United States, profiting enormously from the prohibitionist drug policies of the US government. Since Mexican president Felipe Calderon took office in December 2006 and called the armed forces into the fight against the so-called cartels, prohibition-related violence has killed more than 35,000 people, including more than 15,000 last year. The increasing militarization of the drug war and the arrest of dozens of high-profile drug traffickers have failed to stem the flow of drugs -- or the violence -- whatsoever. The Merida initiative, which provides $1.4 billion over three years for the US to assist the Mexican government with training, equipment and intelligence, has so far failed to make a difference. Here are a few of the latest developments in Mexico's drug war: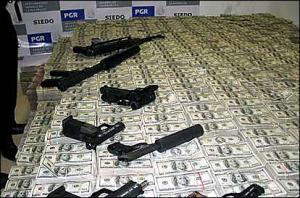 Thursday, February 10
In Ciudad Juarez,
18 people were killed
in several incidents in the city. In one incident, gunmen attacked a bar, firing indiscriminately and killing six waitresses, a man dressed as a woman and another unidentified individual. It has been suggested by some that the incident is an example of "social cleansing" conducted by armed groups in the city. In another incident, a man was killed when being shot over 100 times by men armed with automatic rifles.
Friday, February 11
At the US-Mexico border at Nogales, a
smuggling tunnel was discovered
by Border Patrol agents. The tunnel was hand dug and appears to still have been under construction.
Saturday, February 12
In Acapulco,
a second-grader was executed
after being allegedly picked up by a car full of armed men. A note was left with the body suggesting that the boy was killed because his mother was an informant and for "stealing husbands."
In Guadalajara,
armed men used automatic weapons and grenades
to attack a crowded nightclub. Six people were killed and at least 37 were wounded. It was later reported that three of the dead may have been Venezuelan nationals and one was a Colombian national. The reasons for the attack remain unclear.
Sunday, February 13
In Tamaulipas,
18 cartel gunmen were killed
during a series of armed clashes between criminal organizations. The battles, which took place primarily on the Matamoros-Ciudad Victoria highway, were almost certainly between the Gulf Cartel and their former enforcers of the Zetas Organization.
In Ciudad Juarez,
ten people were murdered
across the city. In one incident, four young men were gunned down leaving a soccer game. Reports indicate that the attacking gunmen in that incident were all young men, no older than 20 years of age.
In Monterrey,
the head of Nuevo Leon's security and intelligence agency
was killed. Homero Salcido Trevino, 40, was traveling home Sunday night when gunmen kidnapped him and drove him to a central area of Monterrey, where he was shot and his body left in the backseat. The car was then set aflame.
Monday, February 14
Near Ciudad Juarez,
the body of the brother of a murdered activist
was found in a drainage ditch near a military checkpoint. The body is that of Elias Reyes, whose sister, Josefina Reyes, a social activist who sought to investigate the murder of women in the city, was murdered in January. Elias Reyes had been missing since being abducted by gunmen along with his sister and sister-in-law. A child and the Reyes Salazar siblings' mother were released by the gunmen.
Tuesday, February 15
In San Luis Potosi,
two American Immigration and Customs Enforcement (agents) were ambushed
by heavily armed gunmen. Jaime Zapata, 32, died while a second agent, Victor Avila, was wounded and remains hospitalized. It is whether the gunmen had actively been seeking out the Americans. SUV's are highly-prized by the cartels, so a possibility exists that this was a carjacking incident gone wrong.
President Obama later called the Zapata family to offer his condolences.
Wednesday, February 16
In Washington,
a special task force was formed
to investigate the incident in which the ICE agents were shot. US investigators -- whose total number may reach the dozens -- began arriving in Mexico.
Thursday, February 17
In Ciudad Juarez,
at least 15 people were killed.
Two police officers were killed in two different shooting incidents. The killings came the same day as a large group of government officials were in the city to report on one year of the Todos Somos Juarez plan, which was formed after 16 young people were killed at a party. On Thursday, they reported that overall crime in Juarez was down 45%.
In Arizona,
nine people were arrested for allegedly being part of an arms smuggling network
which shipped weapons to Mexico. During the operation, which also took place in Texas and inside Mexico, police seized some 300 weapons including assault rifles. Another seven defendants were previously charged and are awaiting trial.
Friday, February 18
In Ciudad Juarez,
twenty people were murdered
in a series of violent incidents across the city. The dead include at least three pairs of couples and a member of the state police intelligence service. In one instance, a man and woman were shot dead in a home after it was stormed by at least three car loads of heavily armed gunmen, who used a truck to ram through the front gate of the home.
In Nuevo Leon,
eight gunmen were killed
during a series of firefights with the army.
Saturday, February 19
In Acapulco,
at least twelve taxi drivers or passengers were gunned down
in a series of incidents across the city. The motives remain unclear. Taxi drivers in the area are sometimes recruited by cartels to traffic and move narcotics.
In Ciudad Juarez,
at least 19 people were killed
on Saturday, bringing the number of murders to almost 40 in a 48-hour period.
In Reynosa,
President Calderon announced that at least four additional battalions will be deployed
to Mexico's northern border. Calderon's comments came during an Army Day speech at a nearby military base.
In Torreon, Coahuila,
five people were killed when gunmen opened fire inside two bars.
A sixth person died the next day. At least eight others were wounded, including a two-year old girl whose mother was killed. Witnesses said that at least one individual returned fire and was then taken into police custody.
Tuesday, February 22
In an interview published Tuesday in Mexico City,
President Calderon said that the United States is not doing enough to help Mexico
, especially in stemming the number of American-bought weapons headed south into Mexico. He also criticized the way the Mexican government was characterized in documents made public by WikiLeaks, saying that US-Mexico relations were strained by the contents of the leaks.
In Guerrero,
Mexican marines seized 72 sticks of commercial explosives
at an armed camp in a rural area of the state near the border with Michoacan. The marines also found assault rifles, grenades and a small of marijuana.
In nearby Acapulco, the bodies of seven men were discovered. Three of the bodies were mutilated and dumped on a main highway leading to a tourist area. One of the other bodies found was half-buried and decapitated. Mexican media report that notes threatening a local army officer were left with some of the bodies.
In Mazatlan, two people were shot dead within earshot of foreign tourists at a hotel.
Wednesday, February 23
In Acapulco,
three bodies were discovered
inside a taxi. One male victim had been decapitated. The taxi had been stolen earlier in the day.
In Mexico City,
the Mexican Defense Department announced
that one individual suspected of participating in last week's attack on two US ICE agents has been detained by Mexican forces. They did not name the individual or say where he was captured. Jose "El Mamito" Rejon, a high-ranking Zeta and former Mexican army corporal, has been named by various sources as likely having participated or ordered the attack, but it is unclear if Rejon is the man in custody.
Total Body Count for the last two weeks: 297
Total Body Count for the Year: 1,175
Total Body Count for 2010: 15,273
Total Body Count for 2009: 9,600
Total Body Count for 2008 (approx.): 5,400
Total Body Count for 2007 (approx): 4,300
Total Body Count for Calderon's drug war through 2010: 34,849
Total Body Count for Calderon's drug war to date: 36,024