The losers in New York state's effort to reform its draconian Rockefeller drug laws, mainly district attorneys and Republican legislators, made a last-ditch effort this week to scuttle part of the reforms. But given a strong response from reform proponents, Gov. David Paterson (D), and Assembly Democrats, the effort appeared dead in the water as the week wound down.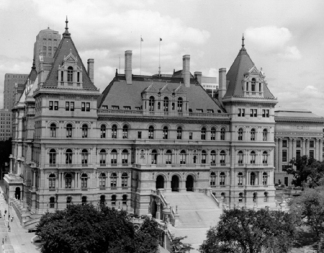 The brouhaha erupted over a provision in the law that allows judges the discretion to conditionally seal some nonviolent conviction records when a person has completed drug treatment. The reason for the provision is simple: To make it possible for people who have successfully undergone treatment to be able to enter the workforce without having the albatross of their nonviolent, pre-treatment drug convictions hanging around their necks.
With the Rockefeller reform law set to go into effect next week, Senate Republican minority leader Dean Skelos headlined a Monday press conference to warn that allowing judges to seal the records of "dangerous criminals" was a threat to the safety of New Yorkers. "This is one that is potentially going to kill people if it's not repealed," said Skelos (R-Rockville Centre). "This is about life and death."
"It's just mind-boggling in terms of the impact of this provision," said Sen. Frank Padavan (R-Bellerose) the primary sponsor of the effort to undo the provision. "This change in our state drug laws defies all common sense because it would effectively wipe the slate clean for criminals who will face necessary criminal background checks for positions of confidence and public trust."
"It means someone convicted of selling drugs on a school yard could be hired as a teacher," Skelos added. "Someone caring for toddlers, someone running a crystal meth lab could be delivering medications to your grandmother at a nursing home. And an individual convicted of forgery or grand larceny could be handling your money at the bank or taking your application for a loan or credit card."
DAs also joined in the attack. "If you look at the list of jobs and licenses that you are going to be able to get without having your criminal drug activity revealed to a potential employer is remarkable," Staten Island District Attorney Daniel Donovan, who heads the state's district attorneys' association, told the Ithaca Journal.
Sounds pretty scary, and that scare tactic worked, at least to some degree. Senate Democrats initially wavered, saying they might take up the issue. On Wednesday, Sen. Eric Schneiderman (D-Manhattan), the Senate sponsor of the Rockefeller reform bill indicated he will try to delay the implementation of the record-sealing provision.
But on closer analysis, the Republicans' and the prosecutors' appeal to public safety appears threadbare, one might even say hypocritical, especially given that DAs have held the same power to seal conviction records for decades -- and have used it expansively with little scrutiny.
The new provision is much more transparent. Under this provision, a judge may order records to be conditionally sealed only after a person has successfully completed both a judicially-supervised drug treatment program and the court-imposed sentence for the offense, and after the judge considers, among other things, the circumstances and seriousness of the offense, the character of the defendant, his or her criminal history, and the impact of the sealing on public safety. A judge must also give the district attorney notice and an opportunity to be heard and may deny a sealing request even if the applicant has completed drug treatment.
Even while signaling he might be open to delay to discuss the provision, Schneiderman defended the bill. "A defendant should be able to go to a judge and say the prosecutor wouldn't do this for me," he said. "Now the judge can overrule the prosecutor," he added before going on to accuse the GOP of trying to "terrorize the citizenry."
If Schneiderman was intimidated by the Republican onslaught, some of his fellow Senate Democrats weren't. Senate Crime Committee Chairwoman Ruth Hassell-Thompson (D-Mount Vernon) said in a statement that the criticism "is an alarmist attitude of a few who refuse to accept the notion that many of these former addicts have served their time and proven themselves worthy of a second chance."
Nor were reform proponents taking the attack lying down. "The real issue here is not about sealing, but who gets to decide," said Gabriel Sayegh, project director with the Drug Policy Alliance. "Prosecutors have been sealing records for years, and so long as they held the discretion to seal records, they didn't mind sealing. But now that discretion has been returned to judges, the prosecutors have objections to the practice. This isn't about record sealing, which works when done right. It's about who gets to decide, and prosecutors don't want to lose control over the process."
"The right-of-center representatives and law enforcement officials, mainly DAs, are trying to make political hay out of this issue and are using fairly old-school tactics to bum rush the public into being scared," said Robert Gangi, executive director of the Correctional Association of New York, a member of the Rockefeller reform coalition Drop the Rock. "But I think our side has defended the sealing provisions very eloquently and forcefully."
"People with past criminal histories -- no matter how old or the nature of the record -- are often indefinitely denied access to many spheres of society including employment," said Anita Marton, vice president of the Legal Action Center. "This provision increases employment opportunities, so people can truly be given a second chance at succeeding in and contributing to society. This is smart policy."
"Prosecutors and some opportunistic elected officials want to set up road blocks and stigmatize people by prohibiting judges from sealing records for people who have successfully completed their drug treatment," said Anthony Papa, communications specialist at the Drug Policy Alliance, who served 12 years for a first time nonviolent drug offense. "We should be removing barriers for people who are reentering society so they can function as productive, taxpaying citizens, and access to employment is an important part of that."
By Wednesday, Gov. David Paterson (D) had weighed in, saying the law should stand as is. The reforms are aimed at giving judges discretion in diverting nonviolent drug offenders to treatment instead of prison, he said, and people who complete such programs should not be penalized when seeking work. "We feel it helps society to try to place them in homes and in jobs without putting the scar of their addiction on them," he said during a meeting with legislators to discuss the matter.
The governor's statement was on the money, said Gangi. "Sealing the records is actually a very good idea that doesn't increase the risk to public safety," he said. "People who have gone through treatment and avoided prison are going to continue to do well. We don't want to place obstacles in their path."
With Paterson standing firm and Assembly Democrats right there beside him, the issue should be dead now, said Gangi. "The Assembly Democrats won't even be considering looking at this," he said, "even if the Senate Democrats waiver. With the governor's support and if the Assembly Democrats hold the line, this is even more of a non-starter. It should be case closed, and let's move on to the next pressing matter."
My, how the mighty have fallen! Up until last year, DAs and their Republican allies in the state legislature were able to beat back reform with the clubs of fear-mongering and demagoguery. Now, they appear lonely losers, their appeals to fear scoffed at, their shrieks of discontent lost in the wind.