The president continues to exercise his commutation power on behalf of drug war prisoners, the Florida face-biting killer was not on any new psychoactive substances, Montana activists want their medical marijuana program to restart now, not later, and more.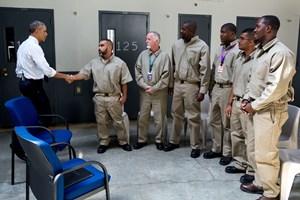 Medical Marijuana
Montana Activists File Suit to Force Early Action on Patient Cards. In the wake of last week's vote to reinstate the state's medical marijuana program, the Montana Cannabis Industry Association has filed a lawsuit seeking to force the Department of Health and Human Services to immediately begin processing and issuing medical marijuana cards. The language of the ballot measure means the state has until next summer to act, but the MCIA doesn't want to dally.
New Psychoactive Substances
Florida Face-Biting Killer Wasn't on Bath Salts, Flakka. Austin Harrouff, the Florida man charged in the face-biting slaying of a neighbor couple was not under the influence of new psychoactive substances, an autopsy report released Wednesday revealed. Early press and law enforcement commentary had suggested Harrouff was high on bath salts (methcathinone) or flakka (alpha-PVP), but the autopsy revealed only prescription medications and a "minimal" amount of THC in his system. "Austin is struggling with severe mental illness and the judicial process will bear all of this out in due time," his attorney, Nellie King said.
Sentencing
Obama Announces More Commutations, Total Now Over a Thousand. President Obama Wednesday announced that he was commuting the sentences of 79 more drug offenders sentenced under draconian drug laws dating back to the 1980s. That brings the total of commutations under Obama to more than one thousand, which is more than the list 11 presidents combined. Thousands more commutations requests filed in response to an Obama administration call in 2014 remain pending as the clock ticks down on Obama's time in office.
International
Cayman Islands Legalizes CBD Cannabis Oil. Gov. Helen Kilpatrick last week signed into law legislation allowing for the use of CBD cannabis oil in the island nation. The oil can be used for the treatment of conditions including epilepsy and cancer and as a pain reliever for arthritis symptoms. The law does not allow for marijuana to be grown in the country, but the legislature last month passed a separate law allowing for the importation of CBD cannabis oil.