Chronicle Book Review: Psychedelic Justice: Toward a Diverse and Equitable Psychedelic Culture (A Chacruna Anthology) by Beatriz Labate and Clancy Cavnar, eds. (2021: Synergetic Press, 237 pp., $19.95 PB)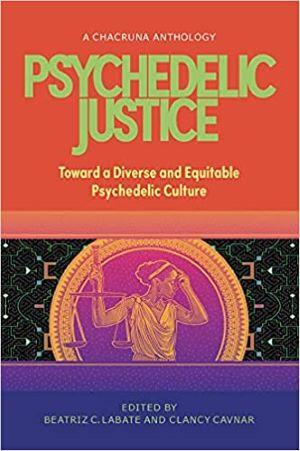 The world and culture of psychedelics is undergoing rapid change. From the decriminalization of entheogenic plants in various US locales to the rise of ayahuasca tourism in the Amazon, from the stunning advances in psychedelic-assisted therapies to the equally stunning gusher of corporate capital investment in potential psychedelic gold mines, the Psychedelic Renaissance is most definitely upon us.
But as psychedelics come in from the cold, psychedelic culture is increasingly feeling growing pains, with any number of conundrums, controversies, and contradictions. How does Indigenous knowledge and practice of sacred plant medicines (ayahuasca, peyote, psilocybin mushrooms) translate into Western medical science? How does a scene dominated by straight White guys move toward diversity and equity? How can psychedelics retain their transformative power if and when they become commodified corporate products? And how can the movement deal with sleazy -- if not downright criminal -- operators in its midst?
Who better to tackle these issues than the good folks at the Chacruna Institute of Psychedelic Plant Medicines? Founded by Brazilian anthropologist and anthology co-editor Beatriz (Bia) Labate, the institute "produces high-quality research on plant medicines and psychedelics and helps propagate academic knowledge in more accessible formats," according to its web site. It also tries to bridge the gap between traditional ceremonial use and clinical and therapeutic settings and seeks to "foster cultural and political reflections on the field of psychedelic science and facilitate conversations about controversial topics that have been simmering on the sidelines as psychedelics go mainstream."
Edited by Labate and Chacruna co-founder and board member psychologist Clancy Cavnar, Psychedelic Justice is one of the fruits of those labors, and boy is it juicy! One could be forgiven for assuming a tome such as this would be dry and tendentious, but one would be mistaken. Some 30 contributors from across the psychedelic specturm take on the heavy questions surrounding the realm, and they do so with verve and flair. The pieces are almost uniformly passionate, provocative, and insightful, and they dig down deep into the issues percolating in the psychedelic space.
The book is divided into thematic sections -- Inclusion, Diversity, and Equity; Perspectives on Cultural Appropriation, Colonialism, and Globalization of Plant Medicines; Psychedelics and Western Culture; Queer; Sex and Power; and Sustainability, Policy and Reciprocity -- with multiple authors and points of view in each section. Although diverse viewpoints are represented, the contributors are collectively members of the broad psychedelic community and appear united in wanting to not lose that underlying transformative potential that so characterizes psychedelics and differentiates them from other classes of drugs.
Whether it is a critique of psychedelic-assisted psychotherapy (like psychotherapy in general) as too invested in the individual dealing with his problems to take on the social causes of those problems, a skeptical examination of the burgeoning psychedelic conference scene, or a jeremiad against the failures of "White feminism," Psychedelic Justice and its contributors are down for radical cultural transformation.
And that includes some form of policing the burgeoning commerce in psychedelics. Whether its is abuses and neglect in the unregulated ibogaine treatment industry or the predatory practices and sexual exploitation of clients by some ayahuasca shamans (both traditional and neo-), Psychedelic Justice demands the community find a way to weed out such behavior. Sexual abuse by therapists is bad enough; sexual abuse by therapists while clients are under the influence of powerful mild-altering drugs is potentially even more shattering.
One nit I want to pick is that the book's emphasis is overwhelmingly on spiritual and/or therapeutic use. There is little discussion of issues surrounding recreational use, and it almost seems as if some contributors think using merely to enjoy the psychoactive effects is not worthy. But I would wager that the vast majority of psychedelic drug users are not doing so primarily for spiritual or therapeutic purposes, but because they enjoy the sensations. I could be wrong, though.
Still, Psychedelic Justice is an invaluable contribution. It demands to be read by anyone who claims to have an interest in psychedelics, plant medicines, or, more broadly, social justice under capitalism. It will provide you with plenty to ponder.