Britain's drug classification scheme is out of whack and should be adjusted, said Dr. David Nutt, head of the British parliament's Advisory Council on the Misuse of Drugs (ACMD) in remarks reported by the BBC. Nutt called for ecstasy and LSD to be downgraded from Class A to Class B, while suggesting that barbiturates should be upgraded to Class A.
Grouping ecstasy and LSD with other Class A drugs like heroin is "an anomaly," Nutt said, adding that barbiturates could be "worth moving up to Class A." Nutt was responding to a query from the House of Commons' all-party Science and Technology Committee. "I think 4MTA [a little used relative of Ecstasy], LSD and ecstasy probably shouldn't be Class A," he told the committee.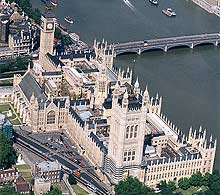 In theory, Britain's drug classification scheme reflects the relative dangers of various controlled substances. But the scheme has been under increasing attack from critics -- including a
parliamentary committee
-- who say it does not accurately reflect the comparative social and personal harms of using various drugs.
Under Britain's classification scheme, possession of Class A drugs carries a maximum sentence of seven years, compared to five for Class B drugs. Sales of Class A drugs can bring a maximum of life in prison, compared to 14 years for Class B drugs.
While other committee members confirmed that ecstasy's status is under review, British drugs minister Vernon Croaker told the BBC he would listen to the ACMD's recommendations, but would not be bound by them. "If the ACMD look at a drug and come to us with a recommendation of course we will look at it," he said. "Whether we then act on it will be a matter of political judgment."
This isn't the first time a move to downgrade ecstasy -- which is used by an estimated half-million Britons each weekend -- has been bruited. In 2002, the House of Commons Home Affairs Select Committee recommended lowering the penalties for ecstasy, but that suggestion was dismissed by then Home Secretary David Blunkett. Last month, current Home Secretary John Reid said he would not revise the classification system despite rising criticism.