This article was produced in collaboration with AlterNet and first appeared here.
It could be up to California voters to make the state the first in the nation to allow for the use and sale of psilocybin, the mind-altering component of magic mushrooms.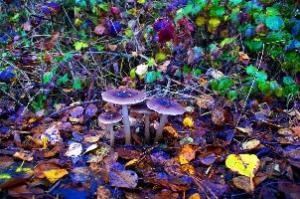 On Friday, Kevin Saunders, a candidate for mayor in the Monterrey County town of Marina, filed the
California Psilocybin Legalization Initiative
with the state attorney general's office. The initiative would exempt people 21 and over from state criminal penalties for using, possessing, cultivating, transporting, and selling psilocybin.
Filing an initiative is just the first step, though. The measure must be submitted for public comment for 30 days and then given a circulating title and summary by the attorney general's office before it is approved for signature gathering. If and when it is approved, campaigners would then have to gather some 365,880 valid voter signatures to be placed on the November 2018 ballot.
Saunders told the Los Angeles Times that psilocybin helped him get over an addiction to heroin a decade ago. "I think we're seeing something that could literally heal our brothers and sisters," he said. "We're talking about real cutting-edge stuff."
Using the initiative process, California became the first state in the nation to legalize medical marijuana in 1996. And while it wasn't the first state to legalize marijuana via the initiative process -- Colorado and Washington led the way in 2012 -- the state legalized recreational marijuana via an initiative last year.
The initiative and referendum process has been criticized as inflexible, circumventing planning, and relying on an uninformed electorate, and it is also open to criticism as a tool for corporate interests. But it has proven an invaluable tool for advancing the cause of drug reform in the face of state legislatures resistant to change.
All eight states that pioneered marijuana legalization did so through the initiative process. No state has yet legalized marijuana through the legislative process, though some appear close. And the pioneering medical marijuana states all did it through the initiative process as well. After California approved it in 1996, it was five years before Hawaii became the first state to okay it legislatively.
California may again be poised to break down the walls of prohibition -- this time with natural psychedelics.