Nevada is going to pilot a digital banking program for cannabusinesses, Alabama's governor signs a medical marijuana study bill, chain pharmacies make recommendations on opioids, and more.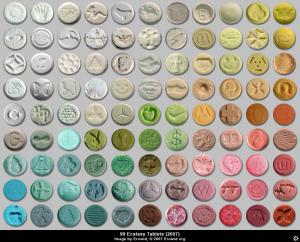 Marijuana Policy
Nevada to Test Limited Marijuana Banking System. Gov. Steve Sisolak (D) has signed into law a bill that creates a three-year pilot program where marijuana businesses can use an online system to send and receive digital currency. State Treasurer Zach Conine said he hopes to have the system up and running by July 2020.
New Jersey Legislature Approves Expungement Bill. Most state residents convicted of marijuana possession offenses would be able to get their records expunged under a bill approved Monday by both the House and Senate. If signed into law by Gov. Phil Murphy (D), the bill would open even more marijuana offenses up for expungement, including possession of up to five pounds.
Medical Marijuana
Alabama Governor Signs Medical Marijuana Study Bill. Gov. Kay Ivey (R) on Tuesday signed into law a bill creating a commission to study medical marijuana. The commission must report back with recommendations for future legislation by December. The bill, SB 236, also allows the University of Alabama Birmingham to continue its research on the use of CBD cannabis oil as a treatment for debilitating epileptic conditions.
Heroin and Prescription Opioids
National Chain Pharmacies Issue Recommendations to Fight Opioid Abuse. The National Association of Chain Drugstores (NACSD) has issued four policy recommendations for opioid abuse prevention. They include increased access to naloxone, working toward a national prescription drug monitoring program, pursuing non-opioid remedies for chronic pain management, and requiring coverage of pain management services.
Psychedelics
Congressional Committee Advances Schedule I Amendment. The House Rules Committee voted Tuesday to approve an amendment by Rep. Alexandria Ocasio-Cortez (D-NY) that would remove a longstanding rider on an appropriations bill that bars federal agencies from using tax dollars for "any activity that promotes the legalization of any drugs or substance in Schedule I" of the Controlled Substances Act. Ocasio-Cortez successfully argued that the provision impedes research into substances that have therapeutic potential, such as psilocybin or MDMA. or marijuana. The amendment and the larger appropriations bill now head for a House floor vote.