We're still waiting for the big one to drop in California, Ohio officials don't play nice with initiative ballot title language, Illinois gets its first dispensary approved, NYC wants to ban "fake weed,' and more.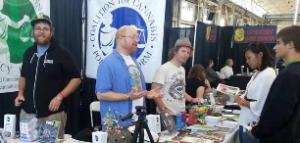 Marijuana Policy
Big California Legalization Initiative Nearly Ready. It's getting late in the season, and the ReformCA legalization initiative has yet to be rolled out. ReformCA chair Dale Sky Jones says it is coming next month, but the delay is cutting into signature-gathering time and is keeping funding on the sidelines for now. Click on the link for more details.
Ohio Secretary of State Uses "Monopoly" to Describe Legalization Initiative in Ballot Title. Secretary of State Jon Husted (R) has inserted the word "monopoly" into the title of the ResponsibleOhio legalization initiative, now known as Issue 3. The title voters will see when they cast their votes will be "Grants a monopoly for the commercial production and sale of marijuana for recreational and medicinal purposes." The initiative would give exclusive rights to grow marijuana commercially to 10 growing facilities whose owners are the funders of the initiative. But ResponsibleOhio counters that state regulators could later expand the number of sites.
Medical Marijuana
Illinois Issues First Dispensary License. The state Department of Financial and Professional Regulations has granted a dispensary license to the Harbory in Marion. Another dispensary is under construction in Milan, but has yet to be licensed. There will be more to come. "Illinois medical cannabis dispensaries will continue to be registered on a rolling basis," said the DFPR in a statement. "Illinois medical cannabis dispensaries will receive medical cannabis exclusively from Illinois' licensed growing facilities once it becomes available."
New Psychoactive Substances
Bill Would Ban "Synthetic Marijuana" in New York City. City Council Speaker Melissa Mark-Viverito said Tuesday she will file a bill to ban the sale of synthetic cannabinoids in the city. "This is a concern that's growing. We're trying to get a handle on it," she said at a news conference. Under the bill, people found guilty of selling the substance could face up to a year in jail and a $5,000 fine, with the fine increasing to $25,000 for subsequent violations. City officials have reported violent incidents and hospital ER visits linked to the drug.
International
British Tories Forego Debate to Reject Marijuana Legalization Petition. The British government is rejecting out of hand a petition calling for legalization that garnered more than 200,000 signatures on a new government website. The petition is supposed to require the parliament to consider the question, but the Tories control the backbenches, and the government isn't waiting to dash cold water on the idea. Its official reply says: "Substantial scientific evidence shows cannabis is a harmful drug that can damage human health. There are no plans to legalize cannabis as it would not address the harm to individuals and communities. Cannabis can unquestionably cause harm to individuals and society. Legalization of cannabis would not eliminate the crime committed by the illicit trade, nor would it address the harms associated with drug dependence and the misery that this can cause to families."
Salvia Divinorum To Be Banned in Canada as of February. On February 8, 2016, the fast-acting psychedelic will officially be added to Schedule IV of the Controlled Drugs and Substances Act. "The (CDSA) will prohibit activities such as the trafficking, possession for the purpose of trafficking, importation, exportation, possession for the purpose of exportation, and production, of Salvia Divinorum, its preparations, and derivatives, unless authorized by regulation or via an exemption," Health Canada said. Simple possession will not be prohibited by law.