Prominent pain patient advocate and Pain Relief Network founder Siobhan Reynolds, 50, was killed in a plane crash on Christmas Eve day. She was one of three people aboard a small private plane attempting to land at an Ohio airport that afternoon. The plane missed the runway and instead crashed on a parallel road, killing all aboard.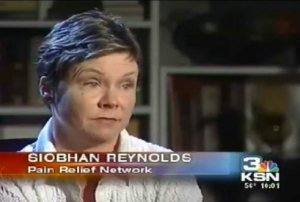 For the last decade, Reynolds had been a fierce advocate for patients suffering chronic pain and the doctors who attempted to treat them with high-dose opioid pain medication protocols. She came to be an advocate through personal tragedy -- her husband, a chronic pain patient, died as the family moved cross-country seeking effective relief for him.
But Reynolds turned her personal tragedy into activism of the highest sort, founding the Pain Relief Network to advocate for an effective response to the under-treatment of pain in this county. She was present for the trial of Northern Virginia pain management pioneer Dr. William Hurwitz, a trial I attended and where we first met. Hurwitz was convicted of being a drug dealer and imprisoned, an injustice that only deepened Reynolds' fire for justice.
She and the Pain Relief Network played a central role in winning freedom for Richard Paey, the wheelchair-bound pain patient sentenced to 25 years in state prison, and that was just one of her many interventions in the DEA's war pain doctors. Where the DEA saw only "pill mills" and Dr. Feelgoods, Reynolds saw the effectiveness with which high-dose opioid theory brought relief to suffering people.
Her feisty and tireless advocacy brought her into direct conflict with the DEA and federal prosecutors, most notably in the case of Kansas pain clinic owner Dr. Steven Scheider, who was charged with over-prescribing pain pills, and his wife, Linda, a nurse who was charged along with him. When Reynolds set up shop in Kansas to publicize the case and the issues and lend support to the Schneiders, Assistant US Attorney Tanya Treadway opened a criminal investigation into Reynolds and the Pain Relief Network, seeking, among other things, all of Reynolds' email, phone records, and other communications with doctors, patients, and attorneys.
As always, Reynolds fought back against the feds, and, in a shameful episode in American jurisprudence, she lost -- and worse. Not only was she forced to comply with Treadway's subpoena, but Treadway and the federal courts conspired to hide the whole sordid episode from public view. The ruling in the case has never been published, nor are the briefs available for scrutiny. Reynolds was even barred from sharing the briefs she submitted with the press.
That ruling was the last straw for the Pain Relief Network, which Reynolds announced was being dissolved a year ago. But not for Reynolds. I spoke with her earlier this year, and she was planning to form another pain advocacy organization. It is our loss that she never got the chance.
Siobhan Reynolds wasn't always easy to work with because she was a true believer in her issue. She was impatient with potential allies who were not willing to go as far as she was, whether they were physicians groups or academics or drug reformers. She wanted the Controlled Substances Act abolished as an abomination, and if you weren't ready to go there, she didn't really want to waste her time with you. But sometimes a movement needs a determined, fiery-eyed idealist. Siobhan Reynolds was that person for the movement against the under-treatment of chronic pain.