A study published Monday in the Lancet assessed the harms of various substances and found that alcohol caused more harm in the United Kingdom than heroin or crack cocaine. The study was done by the Independent Scientific Committee on Drugs, which is headed by Professor David Nutt.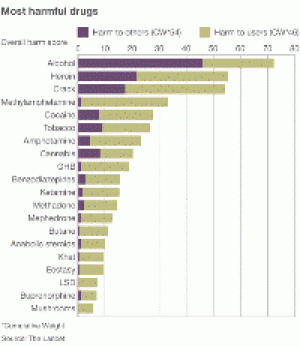 Until this time last year, Nutt was head of the governmental
Advisory Council on the Misuse of Drugs
, but he was fired for criticizing the then Labor government as basing its decision to reclassify marijuana on politics rather than science. He also offended government sensibilities by saying that riding horses was more dangerous than taking ecstasy. After his firing, he and other scientists formed the Independent Scientific Committee on Drugs.
The study,
Drug Harms in the UK: A Multicriteria Decision Analysis
, assessed the relative harms of different legal and illegal drugs to drug users and to society and concluded that "alcohol was the most harmful drug (overall harm score 72), with heroin (55) and crack (54) in second and third places."
It also demonstrated that Britain's drug classification scheme bears little relation to the harms caused by the various substances it regulates or fails to regulate. Alcohol, ranked most harmful in the study, is not a controlled substance, but cannabis (20 points) is Class B, the second most serious drug schedule. LSD (7 points) is a Class A drug, the most serious drug schedule, while tobacco (26 points) is not a controlled substance.
"Our findings lend support to previous work in the UK and the Netherlands, confirming that the present drug classification systems have little relation to the evidence of harm," the authors said.
A group of experts looked at drug-specific mortality, drug-related mortality, drug-specific damage, drug-related damage, drug-specific impairment of mental functioning, drug-related impairment of mental functioning, loss of tangibles, loss of relationships, injury, crime, environmental damage, family adversities, international damage, economic cost, and harm to the community and assessed weighted values for each to arrive at a final figure.
"The weighting process is necessarily based on judgement, so it is best done by a group of experts working to consensus," Nutt and his coauthors said. "Extensive sensitivity analyses on the weights showed that this model is very stable; large changes, or combinations of modest changes, are needed to drive substantial shifts in the overall rankings of the drugs."
Science-based drug policy, anybody?