Back in September, we reported on the appearance of cocaine cut with levamisole, a veterinary de-worming agent, and its links to at least three deaths in the US and Canada from a disease caused by levamisole, agranulocytosis. At that time, the DEA reported that levamisole was turning up in about 30% of the cocaine it sampled.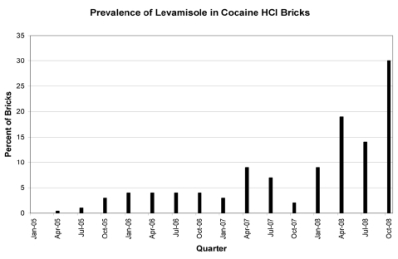 Now, the DEA says that figure is up to 70%. While the number of fatalities has remained unchanged since last fall, new cases of agranulocystosis continue to appear in North American drug users. Earlier this month, authorities in Winnipeg, Manitoba, reported that
two cocaine users contracted the disease
there and that additional cases had been reported in neighboring Alberta.
Levamisole suppresses immune function and the body's ability to fight off even minor infections, and people who ingest levamisole-tainted cocaine can be faced with quickly-developing, life-threatening infections. Agranulocytosis is a condition of suppressed immune systems. Its symptoms include chills or high fever, weakness, swollen glands, painful sores, sudden or lingering infections, skin infections, abscesses, thrush, and pneumonia.
Cocaine contaminated with levamisole, although not users with agranulocytosis, has also popped up in the last few days in Maine and Ohio. Samples of crack cocaine in Mansfield, Ohio, tested positive late last month. And public health officials reported Tuesday that 30% to 50% of Maine cocaine samples tested positive.
The Substance Abuse and Mental Health Services Administration (SAMHSA) put out an alert late in September warning of the tainted cocaine, but federal authorities have done little publicly since then.
Given the geographically widespread reports of cocaine contaminated with the veterinary drug, it is assumed that levamisole is being added as a cutting agent either in source countries or in transit countries, not by local dealers.