President Trump nominates a new drug czar, a Senate opioid bill moves, Colombia ponders using drones to eradicate coca crops, and more.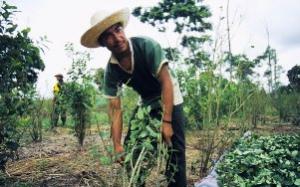 Heroin and Prescription Opioids
Senate Opioid Bill Passes Out of Committee. The Senate Health, Education, Labor and Pensions Committee on Tuesday approved Senate Bill 2680, the Opioid Crisis Response Act of 2018. The bill, which includes over 40 proposals related to ways to combat the opioid epidemic, was written after seven committee hearings on the crisis with input from various agencies and state officials. Other Senate and House committees are hearing other bills related to the opioid crisis.
Drug Policy
White House Nominates James W. Carroll, Jr. for Drug Czar Post. President Trump on Monday announced that he intends to nominate James W. Carroll, Jr., to head the Office of National Drug Control Policy (ONDCP -- the drug czar's office). Even though he has no drug policy experience, he is already the acting director of ONDCP. A lawyer by training, Carroll served as special counsel to President George W. Bush, general counsel for Ford Motor Company, and an assistant to President Trump, among other positions.
Sentencing
California Bills Would Fix Overuse of Sentencing Enhancements. State Sens. Holly Mitchell (D-Los Angeles) and Ricardo Lara (D-Bell Gardens) have filed a pair of bills, Senate Bill 1392 and Senate Bill 1393, that aim to reduce the prison population by reforming the use of sentencing enhancements. Among the most common are a one-year enhancement for each prior prison or county jail felony prison term and a five-year enhancement for having a previous felony when convicted of a serious felony. More than 35,000 prisoners have had sentences lengthened under these laws. SB1392 proposes eliminating the one-year sentence enhancement for prior jail terms. SB1393 proposes returning judicial discretion over striking a prior conviction for a serious felony for the purposes of the five-year sentencing enhancement.
International
Colombia Ponders Using Drones for Aerial Coca Crop Eradication. Colombian police could start using drones to combat a five-year surge in coca production that has damaged relations with the US. Colombian anti-drug police have contracted with a local company to test drones for spraying herbicides on coca fields, according to state contracting documents.