In an absolutely unsurprising turn of events, current head of the Office of National Drug Control Policy Gil Kerlikowske and five former drug czars have come out against Proposition 19, California's marijuana legalization initiative. The six bureaucratic drug warriors all signed on to an op-ed, Why California Should Just Say No to Prop 19, published in the Los Angeles Times Wednesday.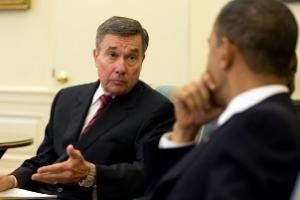 Joining Kerlikowske in the broadside against legalization were former drug czars John Walters, Barry McCaffrey, Lee Brown, Bob Martinez, and William Bennett.
The drug czars claim that Prop 19 supporters will "rely on two main arguments: that legalizing and taxing marijuana would generate much-needed revenue, and that legalization would allow law enforcement to focus on other crimes." Then they attempt to refute those claims.
Noting that marijuana is easy and cheap to cultivate, the drug czars predict that, unlike the case with alcohol and tobacco, many would grow their own and avoid taxes. "Why would people volunteer to pay high taxes on marijuana if it were legalized?" they asked. "The answer is that many would not, and the underground market, adapting to undercut any new taxes, would barely diminish at all."
Ignoring the more than 800,000 people arrested for simple marijuana possession each year, including the 70,000 Californians forced to go to court for marijuana possession misdemeanors (maximum fine $100), the drug czars claim that "law enforcement officers do not currently focus much effort on arresting adults whose only crime is possessing small amounts of marijuana."
They then complain that Prop 19 would impose new burdens on police by making them enforce laws against smoking marijuana where minors are present. Those laws already exist; Prop 19 does not create them.
The drug czars warn that if Prop 19 passes, "marijuana use would increase" and "increased use brings increased social costs." But they don't bother to spell out just what those increased costs would be or why.
The drug czars' screed has picked up a number of instant critiques, including those of Douglas Berman at the
Sentencing Law and Policy
blog, Jacob Sullum at
Reason Online
, and Jon Walker at
Firedoglake
.
We're waiting for a drug czar to come out for pot legalization, not oppose it. Now, that would be real news.