San Francisco Mayor Gavin Newsom has harshly criticized current drug policies, calling them unworkable and counterproductive. The crime rate would go down if the government spent money on treatment instead of arresting and jailing people, he said. Newsom's remarks came last Thursday as he addressed reporters at city hall.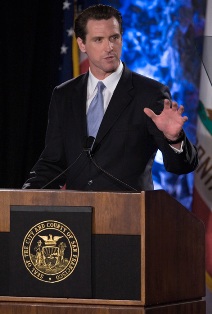 "If you want to get serious, if you want to reduce crime by 70% in this country overnight, end this war on drugs," he said. "You want to get serious, seriously serious about crime and violence end this war on drugs."
Local jails are stuffed with people arrested for drug offenses, leaving little room for violent criminals, Newsom said. As a result, dangerous offenders are cut loose.
That's right, said Sheriff Mike Hennessey, who said between 60% and 75% of San Francisco jail inmates are there for drug offenses or because of substance abuse problems. "No, the war on drugs is not working. The war on drugs is not working because we are relying on law enforcement instead of on treatment," Hennessey said.
Newsom told reporters that politicians lack the guts to take on the failures of current drug policy. "It's laughable that anyone could look at themselves with a straight face and say 'Oh, we're really succeeding.' I mean it's comedy. And as I say, shame on my party, the Democratic Party, because they don't have the courage of their private thoughts, because we don't want to appear weak on this topic," Newsom said.
Newsom said that politicizing drug policy prevents real discussion about how to deal with drug use and abuse. "End this war on drugs," he said. "Now, that is an attack ad by any politician, what I just said, they would be desperate to find that tape of what I just said," Newsom said.
But Newsom was also quick to point out that he wasn't calling for blanket drug legalization. "I'm not saying that," he said. "I'm saying get real about it," he explained. "So what does that mean? Well, it means a lot of things. It means this war on drugs is an abject failure."
A representative of the San Francisco Police Officers Association begged to differ. "I don't think that you give in to a problem by just acquiescing," said Gary Delagnes. "I think that there does have to be control and I don't think legalizing drugs is the answer," he said.
But Delagnes also made it clear that he and his fellow officers can't see the forest for the trees. "When we see the homicides in San Francisco, I mean this all centers around drugs," Delagnes continued. "This is gangs and drug violence, this is money. It's all about money all the time."