At a Saturday meeting in the Bolivian capital of La Paz, former US President Jimmy Carter accepted an invitation from Bolivian President Evo Morales to go pick coca on Morales' coca farm in the Chapare, Agence France-Presse reported. The stop was part of a nine-day trip to Bolivia, Brazil, Ecuador, and Peru by the Nobel Peace Prize winning former president.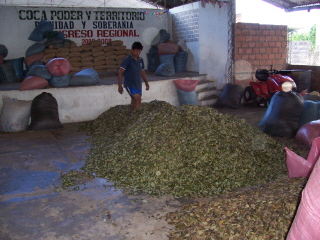 Morales, a former coca grower union leader, launched the invitation amidst smiles at a press conference following a private meeting with the ex-president, saying that he had a long friendship with Carter, who had invited him to pick peanuts on his Georgia farm. "One time, he invited me to visit his family and house, and I harvested peanuts on his land in Atlanta," Morales said. "Now, I invite him to the Chapare to harvest coca... it will be the next time he comes."
"Since President Morales has come to my property and evidently picked some peanuts, I hope that in my next visit I can go to the Chapare, where he has invited me to go harvest coca leaves," Carter replied.
Carter is scheduled to be back in Bolivia in December. At that time, Bolivia will be undergoing general elections in which Morales is seeking reelection until 2015.
Bolivia is the world's third largest coca producer, behind Colombia and Peru. Under Morales, the country has embarked on a policy of "zero cocaine, not zero coca," which has brought it into conflict with the US and with the United Nations' international drug control apparatus. Bolivia expelled the US ambassador and the DEA last fall.