The drug war should be reevaluated in a global context, former US Senator Lincoln Chafee (R-RI) told attendees at the Students for Sensible Drug Policy (SSDP) Northeast Regional Conference last Friday night. The conference, which went through Sunday, was held at Brown University in Providence.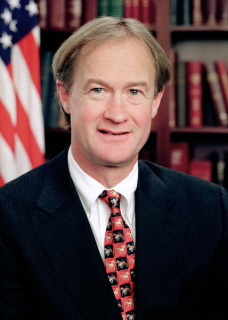 "We're at the point now where we really need to assess whether or not it's working," Chafee told the crowd of about 120. "There are a lot of people who will tell you it's not working. We should be open and honest with ourselves and what are our options."
Chafee, who was the sole Republican Senator to vote against the Iraq War and had a strong in-state approval rating, was nevertheless defeated for reelection by a Democratic challenger in last year's campaign. During his tenure in the Senate, Chafee served as chairman of both the Western Hemisphere and Middle East subcommittees, where he has become familiar with drug policy issues. During his 1999 Senate campaign, he admitted smoking marijuana as a college student.
The key to effective drug policy is to have a uniform global policy, he said (ignoring the fact that that is precisely what we have now). "The doors are open to a different way of looking at the war on drugs," he said. "It has to be done in unison, with a lot of other countries."
Chafee also called for the reassessment of federal laws governing mandatory sentencing during the forum. And he called for repeal of the Higher Education Act's anti-drug provision, which bars students with drug convictions from receiving financial aid for specified periods.
"[When someone is released from prison] the first thing they want to get is a skill and you get that by going to school," Chafee said. "To forbid them from getting school aid because they have a conviction is backwards. I'm sure those laws were put into place with good intentions, but we're at a point where we're saying let's try something different. When you hear politicians talk about the war on drugs, they always say they're doing it to protect the children."
Chafee's remarks were published in the Providence Journal, which also provided some well-deserved ink for the conference and SSDP. The newspaper even provided the address for the event.
It also quoted SSDP communications director Tom Angell encouraging young people to participate in politics. "It's important for young people to be involved in the movement since it impacts our generation," he said. "When you hear politicians talk about the war on drugs, they always say they're doing it to protect the children. This war is waged in our names."
Though Chafee stopped short of addressing the prohibition question, he did, in response to a question about former Uruguayan President Jorge Batlle's call for drug legalization, reveal that he was sitting opposite a podium from President Batlle at the December 2000 press event where Batlle made that comment. Chafee said that he was "stunned" by Batlle's remarks, but considered it "courageous" and that we need to "consider new ways of thinking."