The attorney general hints at changes in federal marijuana enforcement policy, Sen. Elizabeth Warren challenges Trump's HHS nominee on medical marijuana and opioids, North Dakota activists file a legalization initiative, and more.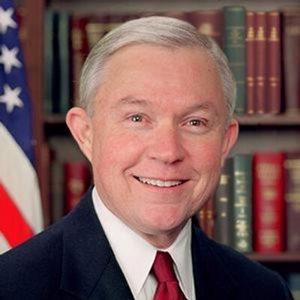 Marijuana Policy
Sessions Hints at Changes in Federal Marijuana Enforcement. At a press conference Wednesday on new measures to address opioid use, Attorney General Jeff Sessions signaled that the Justice Department's laissez-faire approach to marijuana in states where it is legal may soon be changing. Justice is looking "very hard right now" at the Cole memo, an Obama-era guidance to federal prosecutors that told them to generally make enforcement a low priority in legalization or medical states, Sessions said. "We had meetings yesterday and talked about it at some length. It's my view that the use of marijuana is detrimental, and we should not give encouragement in any way to it, and it represents a federal violation, which is in the law and it's subject to being enforced, and our priorities will have to be focused on all the things and challenges we face," he said. "We'll be working our way through to a rational policy. But I don't want to suggest in any way that this department believes that marijuana is harmless and people should not avoid it."
Connecticut Gubernatorial Candidates Support Legalization. In the first debate of the 2018 gubernatorial campaign Tuesday night, several candidates said they supported marijuana legalization, a step current Gov. Dannel Malloy (D) has been unwilling to take. "Yes, I will sign a bill to legalize it,'' said Democrat Dan Drew. "There are an awful lot of people who use cannabis for a variety of reasons… wouldn't it be better if we control the process on the front end, if we were able to regulate it?" Another Democrat, former consumer protection commissioner Jonathan Harris also said he supports marijuana legalization. Only Republican candidate Prasad Srinivasan quailed at the prospect, saying he had concerns about public safety and public health.
North Dakota Activists File Legalization Initiative. Grand Forks resident David Own delivered a proposed petition to begin an initiative campaign to legalize marijuana to the secretary of state's office on Tuesday. The petition calls for the "full legalization" of marijuana and expungement of records for any crime that would be legalized by the measure. If approved for signature gathering, the initiative will need some 13,000 valid voter signatures to qualify for the November 2018 ballot.
San Francisco Approves Legal Marijuana Regs; Sales to Begin January 5. The Board of Supervisors voted Tuesday to approve regulations for recreational marijuana sales and set January 5 as the date when legal sales could begin. Supervisors voted for a 600-feet buffer between stores and schools -- much less than what some members of the Chinese immigrant community had lobbied for -- and rejected provisions that would have let neighborhoods limit the number of pot shops or ban them outright.
Medical Marijuana
Elizabeth Warren Wants Marijuana Answers From Trump Health Nominee. Sen. Elizabeth Warren (D-MA) has sent a letter to Alex Azar, President Trump's nominee to lead the US Department of Health and Human Services (HHS) suggesting the administration study how marijuana legalization could reduce opioid addiction and overdose deaths. The letter also asks Azar to answer questions about what he would do to study marijuana as an alternative to opioids, whether he is committed to implementing evidence-based policies, and what steps he would take to "improve our knowledge of the potential therapeutic benefits of marijuana when used for medical purposes."
Iowa Announces First and Only License for Medical Marijuana Manufacturer. The Department of Public Health announced Tuesday it will issue a CBD manufacturing license to MedPharm Iowa. That is the first license to grow marijuana and create CBD products in the state and the only one that will be issued.
Heroin and Prescription Opioids
DEA to Open First New Field Office in 20 Years to Fight Epidemic. At a press conference Wednesday addressing the opioid crisis, Attorney General Jeff Sessions announced that the DEA will open a new field office in Louisville, its first new field office in two decades. Sessions also announced new federal grants totaling $12 million to fund anti-heroin task forces and said that all 94 US attorneys across the country would name officials to coordinate opioid enforcement operations in their areas.
(This article was prepared by StoptheDrugWar.org's lobbying arm, the Drug Reform Coordination Network, which also pays the cost of maintaining this web site. DRCNet Foundation takes no positions on candidates for public office, in compliance with section 501(c)(3) of the Internal Revenue Code, and does not pay for reporting that could be interpreted or misinterpreted as doing so.)