NORML endorses a US Senate candidate, pressure mounts for medical marijuana in New York, West Virginia wants to make Sudafed prescription only, and more. Let's get to it: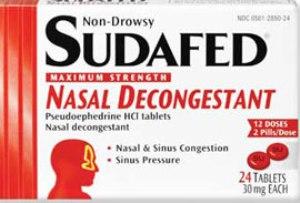 Marijuana Policy
Arizona Poll Has 51% for Legalization. A poll from Arizona's Behavior Research Center has support for marijuana legalization at 51%, with 41% opposed. In recent months, other polls have showed majorities both for and against legalization.
Maine US Senate Candidate Wins NORML PAC Endorsement. NORML PAC, NORML's political campaign arm, has endorsed Shenna Bellows in her campaign to represent Maine in the US Senate. "Shenna Bellows has been at the forefront of the fight for marijuana legalization even before beginning this campaign," stated NORML PAC Manager Erik Altieri, "During her tenure leading the Maine ACLU, Shenna has demonstrated she has the skill and determination to fight for sensible reforms and has proven to be a vocal and articulate leader in calling for the end of marijuana prohibition. We believe she will be invaluable in the United States Senate to help move the country away from our failed war on marijuana and towards a new, smarter approach." Bellows is seeking the Democratic Party nomination.
Medical Marijuana
Almost Nine Out of Ten New Yorkers Support Medical Marijuana, Poll Finds.A new Quinnipiac poll has support for medical marijuana at 88%, with only 9% opposed. The poll also had a 57% majority for marijuana legalization. Click on the link for more poll details.
Two New York GOP State Senators Announce Support for Medical Marijuana Bill. Two Republican state senators, George Maziarz (R-Newfane) and Mark Grisanti (R-IP-Buffalo), have announced their support for the pending medical marijuana bill, the Compassionate Care Act. They are the first Republicans to do so. The Compassionate Care Act has passed the Assembly four times, and Governor Cuomo's administration has said the governor would sign it, but the legislation has long been stuck in the Senate.
Oregon Bill to Block Cities and Counties from Banning Dispensaries Passes Senate. The Oregon Senate Tuesday passed Senate Bill 1531, which would let cities and counties regulate medical marijuana dispensaries, but not ban them. A number of cities have already passed ordinances banning dispensaries before a new state law allowing them goes into effect next month, and the Association of Oregon Cities is threatening to sue if the bill passes. It now goes to the House.
New Mexico Patient Survey Finds Program Not Providing Enough Medical Marijuana. A state Department of Health survey of patients enrolled in the state's medical marijuana program finds that only about 20% of patient demand is being met through legal channels. Licensed growers are producing about 2,250 pounds a year, but the survey put the annual demand from patients at more than 11,000 pounds. The Health Department is now "weighing its options about whether to increase production" and whether to increase the number of producers or the number of plants each can produce, a spokesman said.
Drug Testing
Indiana Food Stamp Drug Test Bill Now Targets Only Those With Misdemeanor Drug Convictions. A bill that would have required drug screening for all food stamp applicants and drug testing for those deemed likely to be using has been amended to now apply only to people who have misdemeanor drug convictions in the past 10 years. (People with drug felonies are ineligible for food stamps under a federal law that Indiana has not opted out of.) House Bill 1351 passed the Senate Health and Provider Services Committee after being amended. It has already passed the House.
Methamphetamine
Bill Making Sudafed Prescription-Only Passes West Virginia Senate. A bill that would make access to OTC cold medications containing pseudoephedrine available by prescription only passed the state Senate Tuesday. Senate Bill 6 now goes to the House. The measure is aimed at reducing the number of meth labs in the state, although it has had only temporary effects in the other two states where it has been adopted. Pseudoephredrine is a precursor chemical in meth manufacture.
International
Georgia to Ban Synthetic Cannabinoid Chemicals. Georgian Minister of Labor, Health and Social Affairs Davit Sergeenko said Wednesday a law on criminalizing the basic biochemical formulas used to create synthetic cannabis has been almost completed. "From now on, these substances will be considered as illegal and all the control mechanisms and limits that are set on other legal or illegal drugs will be valid for synthetic cannabis too," Sergeenko said.
Myanmar Extends Opium Crop Substitution Program in Northern Shan State. The Myanmar government, working in cooperation with the UN Office on Drugs and Crime, is extending its crop substitution program for poppy farmers in Northern Shan State. The idea is to increase farmers' food security in areas where eradication has taken place. Last year, Myanmar eradicated about one-fifth of the estimated poppy crop.
(This article was published by StoptheDrugWar.org's lobbying arm, the Drug Reform Coordination Network, which also shares the cost of maintaining this web site. DRCNet Foundation takes no positions on candidates for public office, in compliance with section 501(c)(3) of the Internal Revenue Code, and does not pay for reporting that could be interpreted or misinterpreted as doing so.)