Maryland saw a big opening weekend for legal marijuana sales, Oklahoma medical marijuana operators are suing regulators over a new fee schedule, and more.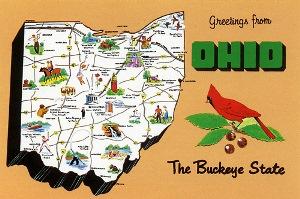 Marijuana Policy
Maryland Celebrates 4th of July Weekend with More Than $10 Million in Marijuana Sales. With legal weed going into effect on July 1, Marylanders embraced it enthusiastically over the holiday weekend, generating more than $10 million in sales over the 4th of July weekend. Adult use sales accounted for about 85 percent of that figure. Adult use sales are estimated to reach $275 million this year and $2.1 billion by 2027.
Ohio Marijuana Legalization Campaign Hands in Signatures. The Coalition to Regulate Marijuana Like Alcohol handed in more than 222,000 signatures Wednesday for its proposed marijuana legalization initiative. If the signatures are verified by state officials, legalization will appear on the November ballot.
This is the second round of signature gathering for the effort. A successful first round put the issue before the state legislature, which had four months to approve legalization but failed to do so. That provided the opening for the campaign to move to phase two: putting the issue directly before the voters -- provided they came up with enough signatures to qualify. It looks like they did: The campaign only needed 124,000 valid voter signatures and now has a cushion of 98,000 signatures. State officials will make that determination by July 20.
The initiative would legalization the possession of up to 2.5 ounces by people 21 and over, as well as allowing for the home cultivation of up to six plants, with a maximum of 12 per household. There would be a 10 percent tax on retail sales. Some licenses will be reserved for people who qualify under social equity provisions.
Medical Marijuana
Oklahoma Medical Marijuana Regulators Sued over New Fees. Several medical marijuana businesses have filed a lawsuit against the Oklahoma Medical Marijuana Authority (OMMA) over a new law that will increase fees for marijuana businesses. Legislators passed a package of bills designed to reign in the state's Wild West medical marijuana scene and eliminate "bad actors," including House Bill2179, which it broadens licensing requirements for medical marijuana dispensaries, commercial growers, and processors. In effect since last month, the bill mandated new fees ranging from $2,500 to $50,000, based on a tiered fee schedule.
Plaintiffs argue that while lawmakers aimed to weed out illegal grow operations, the new fees will only hurt legitimate businesses. "The state is hitting the good guys and it's only helping the bad guys," said plaintiff Jed Green.
The lawsuit charges that the fee increases are unconstitutional under state law because it passed with less than three-quarters majority support, which is required for any tax increases. It also notes that the bill passed during the last five days of the legislative session, even though the state constitution says revenue-related bills cannot be passed during that period.
International
Mexico's Morelos Sees Violence Flare After Anti-Cartel Vigilante Leader Killed. Morelos anti-cartel vigilante leader Hipolito Mora and two of his men were gunned down last Thursday, sparking a new round of violence in and around the city of Apatzingan, which has been embroiled in a long-running conflict between rival drug trafficking organizations, the Jalisco New Generation Cartel and the Viagras. Roads in and out of the city were blocked over the weekend as cartel gunmen pulled trucks and buses across roads. Shoot-outs also took place in and around the city, leaving at least one more person dead.
The Mexican government has tolerated Viagras control of Apatzingan as a means of keeping the Jalisco cartel out, but residents of the agricultural hub are left paying higher prices for goods than anywhere else in Mexico because Viagras extortion drives prices up. The Jalisco cartel is now battling the Viagras along the banks of river just 15 miles south of the city.
Mora was one of the last leaders of the citizens' anti-cartel armed movement that emerged in the area a decade ago. His death is likely the death knell of any hope of reviving armed civilian resistance to the cartels in the area.