Seattle's Hempfest turned 15 this year, and attendees at the world's largest marijuana "protestival" basked in the sun, sampled the delectibles, bought glass pipes by the truckload, listened to a stellar lineup of area and touring bands, and some even took in some serious drug policy reform speechifying. With attendance for the two-day annual event estimated at around 150,000 people, the physical space was cramped, but there was plenty of room for partying and politics.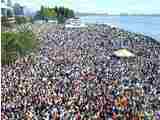 Hempfest takes place in Myrtle Edwards Park, a long, narrow strip of land facing Puget Sound just north of downtown Seattle. To the south, the snowy bulk of Mt. Rainier looms. All day Saturday and Sunday, people by the thousands flooded into the park through a pair of narrow entrances only to confront miles of pipe sellers, hemp product hawkers, exotic food booths, various political organizations, and bands playing on multiple stages.
Among those bands was Los Marijuanos, the bilingual hip-hop group describing themselves as "Mexican pro-pot poets." Los Marijuanos' pro-pot repertoire ranged from Cypress Hill-inspired stylings to remakes of classic ranchera tunes, much to the amusement and sometimes bemusement of the crowd.
While it may take on the appearance of a giant rock concert, Hempfest is at root about legalizing marijuana. In a city like Seattle, where residents approved a "lowest law enforcement priority" initiative in 2003, the battle is half won -- but only half won. Still, the ranks of the pro-marijuana legalization forces are growing, and who better to demonstrate that than the city's former police chief, Norm Stamper?
Stamper, a member of Law Enforcement Against Prohibition, has emerged as a leading police critic of the drug war and certainly warranted the main stage speaking slot (among others) he got. Seattlites who remember Stamper primarily as the head cop during the World Trade Organization riots in 1999 were in for a surprise.
Stamper talked about police officers he knew or commanded who were killed or injured enforcing the drug laws, and he talked about the futility of that policy. "It's laughable when people say we are winning the drug war," he said. "We need to legalize all drugs. Police should be focused on violent crime," he told the crowd.
Stamper wasn't the only big name drug policy reformer attending Hempfest; in fact, it would probably be quicker to name those who were not present. They held forth in the Hemporium, a large tent strewn with carpets, where festival goers could wander in and get a taste of what leaders like Ethan Nadelmann of the Drug Policy Alliance, Rob Kampia of the Marijuana Policy Project, Keith Stroup, the founder of the National Organization for the Reform of Marijuana Laws, or DRCNet's David Guard are thinking these days.
But the crowds at the Hemporium were small. For most people, Hempfest is a party, a chance to see some bands, and yes, a celebration of cannabis culture, but that doesn't necessarily imply an especially elevated political consciousness. Structured as an all-volunteer event free to the public, Hempfest attracts many whose commitment to the cause could be seriously challenged if they had to pay an entrance fee.
"I'm here for the weed and the bands and the girls, man," laughed one red-eyed, shirtless young man sporting a top hat. "Pot is cool. Hempfest is cool," he told Drug War Chronicle. But when asked if he had put a dollar in one of the ubiquitous donation buckets being toted around by volunteers, he merely shrugged.
Indeed, if there were one constant at Hempfest other than the sweet smell of burning sinsemilla it was the unrelenting call from festival volunteers for donations. With a budget in the hundreds of thousands of dollars, Hempfest relies on its crowd for support, but if the ominous rumblings from Hempfest director Vivian McPeak and the legion of volunteers are to be heeded, the crowd is not coming through with enough dollars to ensure Hempfest will be back next year. Is it time to start charging admission?