In less than a month, voters in Oklahoma will be deciding if it will become the 22nd state to legalize marijuana. In a special election set for March 7, a marijuana legalization initiative, State Question 820 will be the only item on the ballot.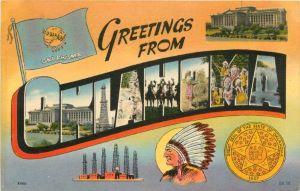 If it passes, Oklahoma would become the first state between the Mississippi River and the Rocky Mountains to legalize marijuana, blowing a big green hole in that tier of prohibitionist red states running down from North Dakota to Texas.
The initiative should have been on last November's general election ballot. The group behind the measure, Oklahomans for Sensible Marijuana Laws, turned in 69,000 more signatures than needed in a timely fashion, but private contractors hired by the Secretary of State's office took an excessive amount of time to verify the signatures.
Between that and questionable legal challenges from opponents, approval of the measure was so delayed that the state Supreme Court ruled weeks before the election that the measure would have to wait for the 2024 general election or until the governor or legislature calls a special election. Gov. Kevin Stitt (R) then announced the March 7 date.
If approved by voters, SQ 820 would allow people 21 and over to possess up to an ounce of marijuana and eight grams of marijuana concentrates and grow up to six plants and six seedlings at home. It also protects parents from losing custody or visitation rights solely because of marijuana use and states that parolees and probationers cannot be punished for marijuana use. Nor could the odor of marijuana or burnt marijuana be used as probable cause for police to infer that a crime had been committed. And it includes a provision for the expungement of some past marijuana offenses.
SQ 820 gives employers the right to ban marijuana use or fire marijuana-using workers, and it would allow private property owners to ban marijuana use (unless it is not smoked). Likewise, the state or local governments could ban marijuana use in public buildings.
The measure sets up a system of taxed, licensed, and regulated marijuana commerce, but for the first two years, marijuana business licenses would go only to existing medical marijuana businesses that have been operating for at least a year. The state is now also under a moratorium on new grower, processor and dispensary licenses until August 2024, meaning any potential new pot business operators may have to wait awhile to get in the game.
SQ 820 sets a 15 percent excise tax on retail marijuana sales, with revenues going to public schools, drug treatment programs, the courts, local governments, and the state's general fund.
And, of course, it is drawing opposition from the usual suspects. A coalition of community, business, and law enforcement leaders led by former Republican Gov. Frank Keating have organized as Protect Our Kids No 820.
"We simply must protect our children, " Keating warned. "This state question goes well beyond the ballot summary voters will see. Just one example is that hidden inside this question is a clause that expressly lowers the legal threshold for child endangerment. It includes a prohibition on our court system from considering marijuana usage in child custody and visitation cases. These are just a few of the problems."
SQ 820 campaign director Michelle Tilley was unfazed. "We think State Question 820 is actually a positive step in protecting our children. Every, every product has to safety tested, it is regulated," she said.
"Other states had these same scare tactics, and they have legalized," she added. "They have not seen an increase in any underage marijuana use or any negative consequences, like we anticipate the opposition is going to throw out there."
Whether SQ 820 can win at the polls next month is an open question. The most recent poll on the topic, from November, had support at 49 percent, with 38 percent opposed and 13 percent undecided. While initiative campaigns typically want to see a nice 10-point lead to cushion any votes peeled off by late opposition efforts, these numbers suggest that all it needs is a tiny portion of the undecided voters to get on board to get it over the top. Stay tuned.