This article was produced in collaboration with AlterNet and first appeared here.
More than 200 graduating high school students in Colorado's Pueblo County will head off to college in a few weeks thanks to legal marijuana. The 210 students will receive scholarships worth $2,000 each for a total of $420,000 -- a very appropriate aggregate figure, given that the scholarships are being funded by excise taxes on state-legal marijuana grown in the county.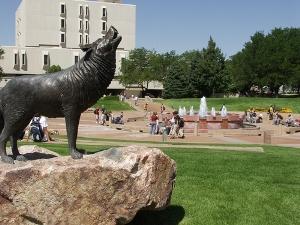 >Happy local officials
described
the pot-fueled Pueblo County Scholarship Fund as "the country's first cannabis-funded college scholarship." It was created after voters in the sun-filled county, which is building a reputation as a
center of the outdoor and greenhouse-grown pot trade
,approved an excise tax on commercial cannabis cultivation in 2015.
Colorado pot taxes have already provided funding for the state's public school system and homeless population, and the Pueblo County scholarships are demonstrating once again the economic and fiscal benefits accruing to states that have legalized marijuana.
And for Pueblo County high school students, there's more to come. The pot cultivation excise tax was 2% last year, but will increase by 1% annually until it tops out at 5%. With rising commercial cultivation and a rising tax rate, the scholarship fund appears set to expand, allowing even more students in the county, where nearly 20% live below the poverty line and where more than 40% of residents are Hispanic, to take advantage of educational opportunities.
But they'll have to stay near home. The scholarships only pay for tuition and fees at Pueblo Community College or Colorado State University-Pueblo. That latter school is also benefiting from marijuana in other ways: Thanks to $900,000 from the state's marijuana tax fund and $270,000 in county pot excise taxes to be used for "community enhancement," CSU-Pueblo last year opened the Institute of Cannabis Research to study topics such as the impact of legalization on local economies, industrial hemp cultivation, and the efficacy of cannabidiol.
Pueblo County Commissioner Sal Pace gave the credit to weed. He told the Cannabist in June the county's abundant sunshine was its greatest natural resource, and taxes on sun-grown weed made both the institute and the scholarships possible.
"There are vast opportunities in cannabis -- from growing to research -- and we want to make sure all Coloradans benefit, not just a select few," he said. "For years, our community has discussed creating local scholarships that could provide opportunity and help break cycles of poverty. The Pueblo County Scholarship Fund will change lives, families and benefit generations to come."
Smoking weed may not help your academic career, but the taxes on growing it are helping some Colorado kids have an academic career. That's one economic impact of legalization you don't need an institute to figure out for you.